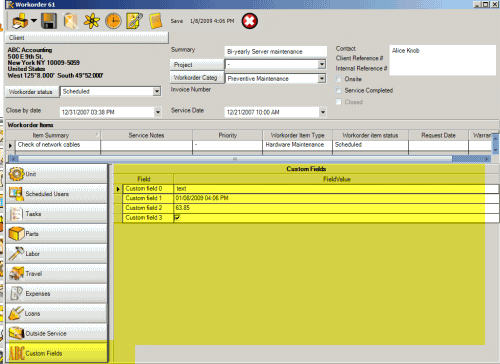 The Custom Fields sub-screen:
•Provides ability to include up to 10 additional custom fields that could be text, date, currency or true/false format fields for workorder item.
The Custom Fields screen is where you would have additional custom fields to enter in information for this workorder item that do not fit any existing fields or sub-screens.
You can add up to 10 custom fields to display for the workorder item via the Custom Field Designer
•The same Custom Fields show for all workorder items
•If the Custom Fields bar to the left is not showing, that is because custom fields have not been set up via the Custom Field Designer for workorder items.
•What fields actually display and what type (text, date, currency, true/False, etc) is totally dependant on what you have customized for the workorder item screen.
•If you have set up Custom Fields for the workorder item, but the field name is still displaying "Custom field 0" etc, this is because you have not exited out of AyaNova and logged back in.