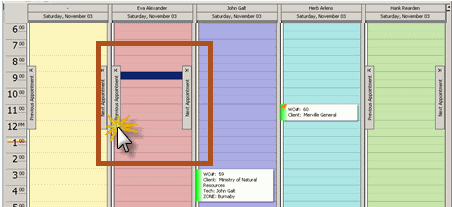 In the screenshot above, in separated view, Eva has two helpful features showing - the Previous Appointment and the Next Appointment.
If you clicked on the Previous Appointment, the Schedule screen will "jump" to that date showing you what is scheduled for Eva on that date (as well as for other schedulable users)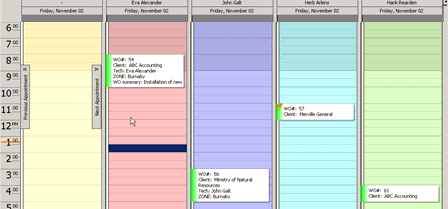 This feature allows you to quickly see when the next appointment or previous appointment for that schedulable user was or is.
NOTE: Next Appointment and Previous Appointment only displays if there are no scheduled workorder items and no Schedule Markers for that schedulable user for the date you are actually viewing.
NOTE: Previous Appointment and Next Appointment displays based on if the Next or Previous is within the calendar month showing on Date Navigator or within 7 days on either side of the visible calendar month.
For example, if the calendar is showing the month of October 2008 and you are presently displaying October 15 2008 on the Schedule calendar, and the technician Eva has no workorder items or schedule markers on that day, but that technician does have a Schedule Marker for September 27th and a workorder item booked for November 4th, that tech will show both Next and Previous available for selection. But if that technician Eva's previously booked item is September 14, the Previous Appointment feature will not show as it is outside the November window plus outside of the 7 days on either side of November.