Do refer to the AyaNova Help file for AyaNova's features. We only list below differences between the main AyaNova Windows program and WBI
Selecting an existing saved filter from the Filter Drop List:
•Just like with the main AyaNova program, you can select a previously saved filter list from the Filter Drop List.

•And note that you must select the Refresh

menu option after selecting a saved filter for it to know to apply it to your list of records in the grid you are viewing.
•A selected pre-saved grid is not able to automatically get the list of records for you until you click the Refresh menu option to allow for the manual filtering feature described below.
•Do note that you can not save a new filter or make changes to an existing saved filter from the Filter Drop List via WBI
Filtering via WBI:
1. Click on the filter image

next to the column name
2. As it has to go back to the WBI server to get the list of possible selections, you will see that it shows Loading.... (how the Loading... shows depends on your web browser)


3. Once the possible list of selections is retrieved, it will then display as a drop down list next to that column you are filtering on (note it can take some time before it displays depending on how many items are to be listed)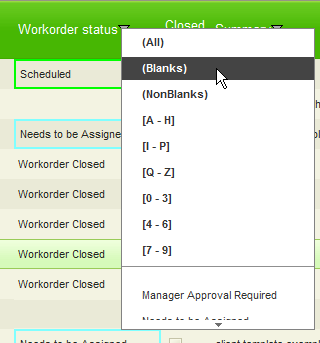 4. The first 10 items will show in the list - to see more, hover your mouse over the down arrow at the bottom, and it will scroll automatically for you so that you can see more.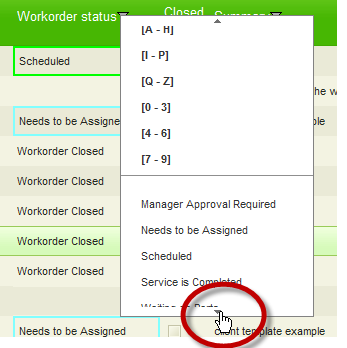 5. Select what you want to filter by, and the grid will refresh to show only records that match that.
Filters made via WBI can not be saved for future selection via the Filter Drop List.
When you exit out of your web browser, and log back in, the grid will display as the last saved grid setting when you actually exited out of via the main AyaNova program.