Use of this online manual:
To view topics, click on the chapter headings to expand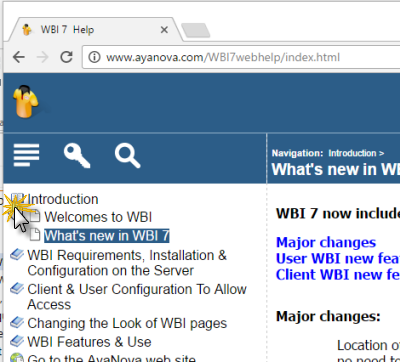 This online manual provides information on configuring and setting up the optional AyaNova WBI server, configuring users and clients to access, and on feature use different from that of the AyaNova program.
Screenshots depicted in this manual may not display exactly as your copy of WBI does, as dependant on screen size and skin in use.
You should be familiar with the AyaNova program before using WBI, as only differences between AyaNova and WBI will be outlined in this manual.
Review the AyaNova Help File along with the trial AyaNova program if you are not yet familiar with the AyaNova program.
Note that there is a separate Client's online manual for the client's account WBI interface.
We have made every effort to ensure that the optional add-on WBI is as easy to use and similar as possible to AyaNova for windows, however due to the nature of web applications and technology there are some differences that are inevitable and out of our control. If a *completed* form in WBI does not operate exactly as it does in AyaNova for Windows or is missing certain features or they operate differently this is a result of what is possible with the current state of the art technology we are working with.
You should expect some differences which are outlined in the section "WBI Features & Use".