Do refer to the AyaNova Help file for AyaNova's features. We only list below differences between the main AyaNova Windows program and WBI
NOTE: As accessing AyaNova data via WBI is via a web program, unless you "tell" the web page to save edits or new entries, the AyaNova database has no way to know that you have added a new record, or edited an existing record unless you "tell" it to Save. It is up to you to make sure that you save any new records added, or any existing record edits.
Schedule Screen: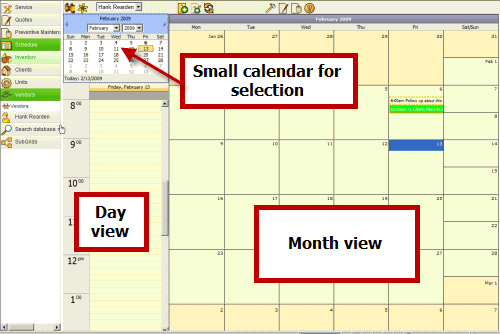 •The Schedule screen displays three viewpoints
1.the small calendar at the upper left hand top for date selection that identifies the single day displaying in the Day view and the month in the Month view
2.the Month view in main view to the right to view your schedule for the month
3.and the Day view of the day selected on either the main month calendar or the small calendar where you can see more details on the specific selected day.
•Multiple days can not be selected at the same time via the WBI small calendar - the day selected in the small calendar displays in the Day view.
•Menu options such as printing, merge view, horizontal time view, etc are not available via the WBI Schedule screen.
•Multiple users schedule can not be viewed at the same time, instead select as per below