The AyaNova Generator program generates service work orders from preventive maintenance orders automatically based on the fields set in the PM order.
Generator when stand-alone default installation:
If you took the stand-alone default installation when you installed AyaNova, you don't have to configure anything to run the internal Generator.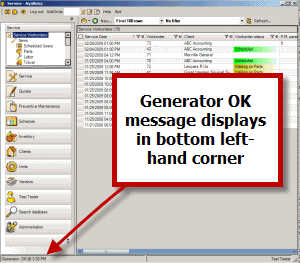 If you have any issues with a PM not generating:
1.Recheck the required fields of the Preventive Maintenance - Active, Next Service Date, Threshold Time Span and Generate Time Span
2.Make sure you are logged in as a user that is not the AyaNova Administrator
3.Make sure you are logged in as a user that has full rights to preventive maintenance and service workorder objects (so that they can be created and updated)
4.Confirm that the Generator is running successfully and shows as such in the bottom left-hand corner when logged in
5.Check the Service Workorder grid sorting by the P.M. Parent column as the workorder may actually have been generated
Generator Service when AyaNova is networked:
Whereas if you have configured AyaNova for network use, than you must install the Generator service.
Follow the Network Generator installation steps to install the Generator Service so that your Preventive Maintenance orders can generate service workorders.
If you have any issues with a PM not generating:
1.Recheck the required fields of the Preventive Maintenance - Active, Next Service Date, Threshold Time Span and Generate Time Span
2.Confirm that the Generator service is running successfully as per the network Generator service
3.Check the Service Workorder grid sorting by the P.M. Parent column as the workorder may actually have been generated