Backup for SQL Express or SQL Server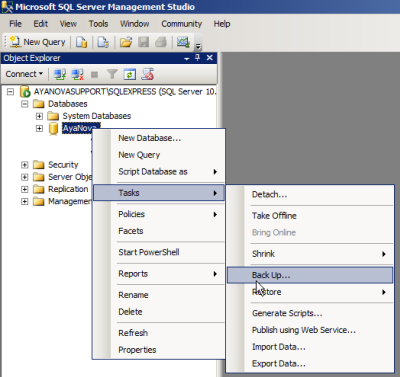 •You must ONLY use Microsoft SQL server approved backup and restore utilities.
•And you ONLY ever backup to a device the backup file that the SQL approved backup utility creates - you NEVER EVER directly backup or access in any way either the .MDF or the .LDF file of the SQL database - doing so can cause corruption of your database.
Microsoft provides SQL Server Management Studio Express which can be used for backup and restore of a SQL Express database. Refer to Microsoft website to download and for instructions on use. Example location may be http://msdn.microsoft.com/vstudio/express/sql/
MS SQL Server Management Studio (installed with SQL Server 2005 and higher)
•Do not copy the SQL database files themselves to a backup device, nor directly restore those files - it will more than likely result in corruption.
•It is recommended to test your backup of your SQL database by restoring it and confirming it restores correctly.
•It is recommended that you backup using the Simple Recovery Mode when using SQL Service Management Studio or SQL Service Management Studio Express so that you back up both the main database file MDF as well as the transaction log file LDF. And you should set up a regular database maintenance of shrink etc to maintain the size of the transaction log file.