OutlookSchedule plug-in installation:
1. Confirm your OutlookSchedule requirements.
2. Install by running the Outlook Schedule Export setup file downloaded from the Downloads web page
•The OutlookSchedule plug-in files will be installed to this computer in the C:\Program Files (x86)\Ground Zero Tech-Works Inc\AyaNova\plugins\OutlookSchedule folder
3. Outlook may pop up an annoying security notice when you import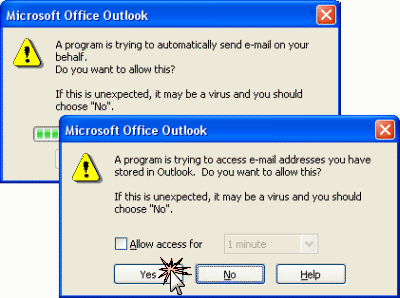 •To allow OutlookSchedule to import, just checkmark the Allow Access and click on OK
•MAPILab creates the free utility Advanced Security for Outlook at http://www.mapilab.com/outlook/security/ that once installed will mean you won't have to do this every time.
•Download the outlook_security.zip file from MAPILab or from the AyaNova Downloads web page
•Extract the setup file and release notes from the zip file
•Install the setup file and the second time you run the AyaNova OutlookSchedule, set to always allow access