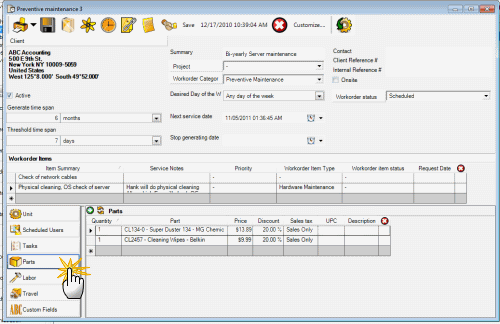 Parts entered in a preventive maintenance order do not affect inventory
•When a preventive maintenance order is converted to a service workorder, the quantity of parts in a PM are not entered in the Quantity column within the Parts subgrid in a service workorder.
•Parts via a PM are entered in a column within the parts subgrid Quantity Required in a service workorder only as a reminder of the amount that should be used as per the preventive maintenance.
AyaNova can not pre-enter this quantity in a service workorder as user intervention may be required because:
•a part may or may not have a serial number
•the quantity may or may not be in stock
In the screenshot below, this service workorder was created by a preventive maintenance. The Quantity Required is indicated in the Parts sub-screen, but the Quantity has not yet been entered by the user.

And to maintain history of Quantity Required, when you enter in the Quantity of 1 for a serialized part in a generated workorder, you can select the serial number