Quote templates allow you to pre-enter or pre-select common information for a new quote entry screen. Quote templates are a great time saver.
Then when you create a new Quote, you can easily just select the template with its pre-entered information from the list of templates to save you entry time.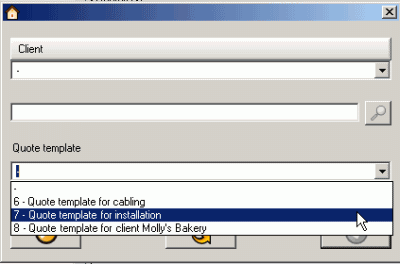 View, edit and create quote templates via the Quote Templates grid via the Quotes navigation pane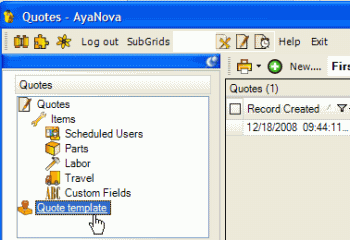 You can edit or view the details on an existing Quote template by clicking its number under the Quote column in the Quote Template grid or by selecting its Template Description

Create a new Quote Template by selecting the New...

menu option in the Quote template grid
You can create as many templates as you want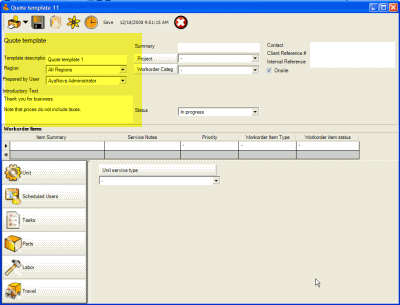 •Enter a template description to make it easy for you to differentiate it from other templates so that you can select the right template for a quote. If you create specific templates for different work to be performed, suggestion is to name it with that type of work i.e. Onsite Network Service Quote, Hot water heater replacement, etc.

•If you want all users of all regions to be able to access and select this quote, select the All Regions. If you want only users of a specific region (or those set to All Regions) to be able to select this quote, select that specific region.
Also see: Regions
•Enter and select those details that you want this template to enter in any new quote created from it - such as the Introductory Text, Workorder Category, etc.
•You will note that client, unit and any date related fields are not available because a template could be for any client, unit or date in the future.
•Quote Template Number

is automatically +1 of the last quote.
•If you select a rate that a client is not capable of having (prevented by contract, or template has a contract rate selected), the record is not transferred to the quote . i.e. a non-contract rate is selected in the quote template for Scheduled Users. Create a new quote using this template for a contracted client that is restricted to a specific rate, will see that the Scheduled User record is not made in new quote at all.
•Selecting Parts in a quote template:
oSelecting a part in a quote template does not affect inventory.
oInventory is only affected when parts are used in a service workorder
•Part pricing via templates: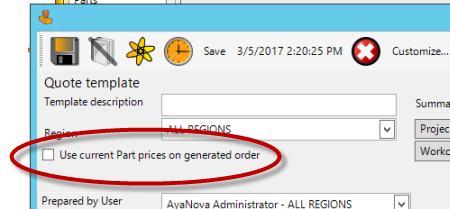 •When "Use current Part prices on generated order" is unchecked: The part price that will be used with the generated quote will be the price stated on this template.
•When "Use current Part prices on generated order" is checkmarked: The part price that will be used with the generated quote will be the Retail price stated in the Part record itself
othis is very useful that when your part prices change, your templates will use the latest price regardless what is stated in the template.