You might want only users of a specific security group to have access to certain report templates. If so, you can select that security group for that specific report template.
•NOTE: If no security group is selected as in the screenshot below, then the report will be available for all security groups that have access to view reports (i.e. Object.Reports is set to minimum Read Only)

•NOTE: The AyaNova Administrator user continues to be able to view the report regardless whether set to a specific security group or not.
1.View the settings of a report template by selecting it from the Report Templates grid

2.Drop down the list of security groups and select the specific one you want this report template to be available to.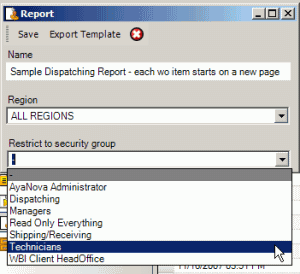 3.Select Save

to save the report template export file and exit out

of the display window