Via RI's Recent.... you can quickly access records you were just recently viewing/editing.
This saves you time so you can get to the record you need!
For example, let's say that you were just at a client's site, have entered in details of the service performed into the scheduled workorder, set it to Closed, and then logged out of RI.
Now as a Closed workorder does not show on your Schedule view, nor does a Closed workorder show on your Dashboard view, you can just drop down the Recent... list and select from the list of records you recently were viewing and/or editing.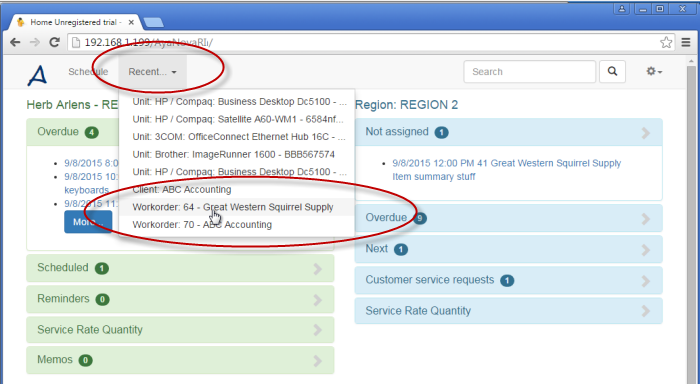 NOTE: it is expected that a user is logged into your AyaNova database via one interface at a time - i.e. via RI OR via WBI OR via desktop AyaNova
If the user account you are using is logged in via multiple AyaNova programs (i.e. desktop AyaNova and RI at the same time), what was viewed via the desktop AyaNova will not necessarily show in the RI's Recent... until that user logs out of via the desktop AyaNova and re-logs in via RI
It is highly recommended that each user have their own account.
Non-scheduleable users and Administrative users DO NOT require a license.
Besides ensuring that Recent... is correct, also Record History can be referred to for who created and when, and who last modified and when.