The following identifies the information that is imported into the QuickBooks customer from an AyaNova client:
If the information is not listed here, than it does not get imported.
NOTE the following:
•to accommodate QuickBooks lack of company name information displaying in a QuickBooks invoice (as only shows what displays in Bill To address), QBI now imports the AyaNova company name into the first line of the QuickBooks company address field.
•to accommodate QuickBooks inability to use Ship To address in a QuickBooks invoice if there is no Bill To address, QBI will now import the AyaNova client's company name and address into the Bill To address as well as the Ship To address if there is only one address entered in the AyaNova client record.
•Set the Terms in QBI Preferences to what you want the default Terms to be for an imported AyaNova client into QuickBooks.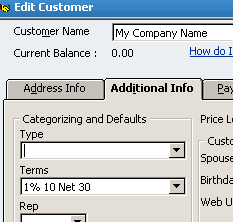 •QuickBooks Contact: field is limited to 41 characters. If the AyaNova Contact: field has text that is more than 41 characters, it will be truncated in the QuickBooks Contact: field
The fields of data that are imported from an AyaNova Client object to a QuickBooks Customer object are:
AyaNova client QuickBooks customer
1 Client Name Customer Name
2 Contact Contact
3 Business Phone
4. Fax FAX
5. Home Alt. Ph.
6. Email Email
7. Physical Address Ship To 1 Address
8. Postal Address Bill To Address
9 Account Number Account No.
AyaNova client fields identified: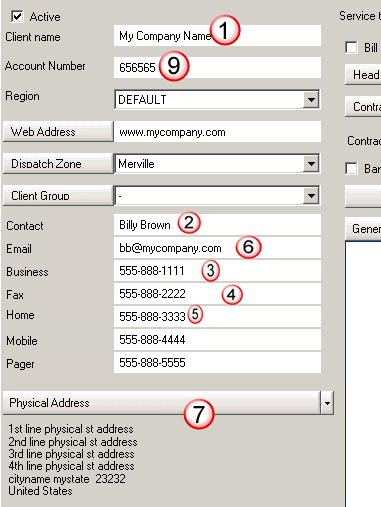 QuickBooks customer fields identified: