Use of this online manual:
•To view topics, click on the chapter headings to expand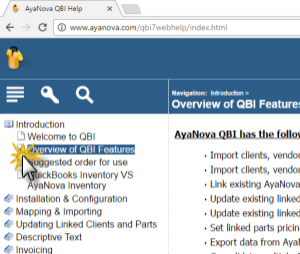 •This online manual provides information on configuring and setting up the optional AyaNova QBI program and use of QBI features. Screenshots depicted in this manual may not display exactly as your copy of QBI, AyaNova and QuickBooks will be different.
•Familiarize yourself with the AyaNova program before using QBI - refer to the AyaNova Help file for details.
•It is suggested to start off with:
1.The Overview of QBI Features and the Overview of QBI Use and review the QuickBooks Inventory vs AyaNova Inventory section
2.Then proceed to QBI Installation and setup of preferences
3.Note the Common Issues & Messages section if you encounter an issue
4.Review the section on linking, on importing QuickBooks data (customers, vendors, items) into AyaNova, and importing AyaNova data (clients, vendors, parts, rates) into QuickBooks.
5.Review the section on updating existing linked QuickBooks and AyaNova clients and parts.
6.Review the section on the Descriptive Text feature to have text from the workorder display in the QuickBooks invoice
7.Refer to the Invoicing section for what and how data from the AyaNova workorder is transferred to a QuickBooks invoice.