If the main QBI screen displays as the screen shot below:

As the message states - there are no service workorders that meet the four setting requirements to be able to have QBI ready them for invoicing into QuickBooks.
If you do have service workorders that you know are ready for invoicing but the above message displays, do the following 6 steps:
1. Confirm that the workorder's Service Completed field is check-marked
2. The Closed field is not check-marked
3. The Invoice #: field is empty
4. The Workorder Status is set to that selected in Preferences for Billable Workorder Status <screen shot below of workorder status may not reflect what you have actually selected in your preferences>

5. If you made any changes to the workorder, be sure to Save & Exit.
6. In QBI, select the menu option Invoices -> Refresh invoices so that QBI checks to see if there now are workorders that are ready for invoicing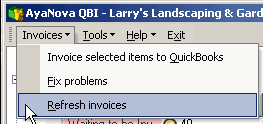 NOTE: QBI only obtains QuickBooks and AyaNova information when QBI first loads
If you enter new information into either QuickBooks or AyaNova with QBI running, you need to refresh the connections in 4 possible ways:
1. Select to Refresh QuickBooks connection from the main menu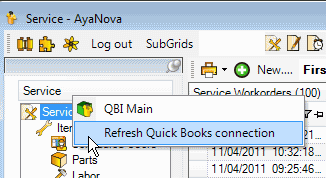 2. From within QBI, select Refresh QuickBooks connection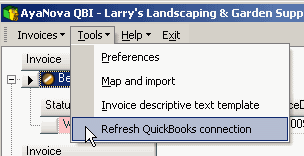 3. If not seeing AyaNova service workorders that are ready for invoicing, from QBI's Invoices menu select Refresh invoices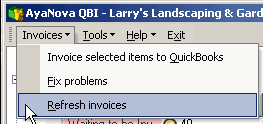 4. Exit out of QBI, exit out of AyaNova. Log back into AyaNova and start QBI again.