You can update just the AyaNova parts Cost and Retail with the cost and retail from the QuickBooks linked part via the main QBI program through the Map/Import menu option.
NOTE the following:
•This feature updates only the AyaNova's Part Retail Price and Cost fields
•This feature does not update other fields of the AyaNova Part
•This feature does not change a work order's Part price or cost
•QBI can only update the price and cost of what the QuickBooks item price and cost was at the time QBI was first opened. If you have edited the QuickBooks item price/cost since opening QBI, you need to refresh the QB connection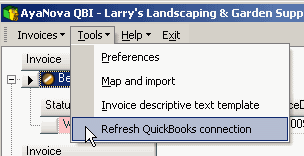 For example, let's say that you edited the QuickBooks part pricing for two parts in QuickBooks. When you run QBI in AyaNova, do the following to update the AyaNova part pricing:
1. In Map / Import select Parts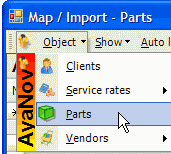 2. Select the menu option Update AyaNova Prices

3. QBI will ask you to confirm that you want to change all linked AyaNova parts to current QuickBooks item price and cost

4. QBI will compare each linked AyaNova Part's price and cost with the linked QuickBooks item price and cost at the time when QBI was opened. If the linked QuickBooks item price and/or cost is different, QBI will change the AyaNova part's price and/or cost.
5. Once the update is completed, QBI will identify how many AyaNova part's were updated, and when you click on OK, will close QBI so that you can re-open it so are starting with the updated data.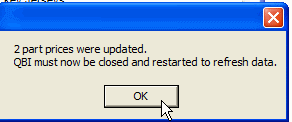 NOTE: QBI only obtains QuickBooks and AyaNova information when QBI first loads
If you enter new information into either QuickBooks or AyaNova with QBI running, you need to refresh the connections in 4 possible ways:
1. Select to Refresh QuickBooks connection from the main menu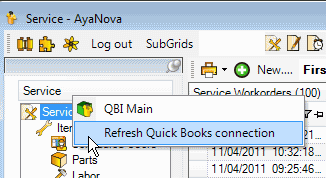 2. From within QBI, select Refresh QuickBooks connection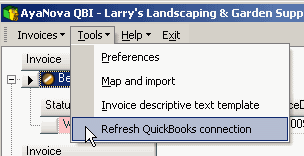 3. If not seeing AyaNova service workorders that are ready for invoicing, from QBI's Invoices menu select Refresh invoices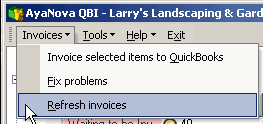 4. Exit out of QBI, exit out of AyaNova. Log back into AyaNova and start QBI again.