To edit a Wiki page, you must go into its Edit mode by selecting the Edit menu option
1. View the Wiki for that object by selecting the Wiki menu option for that object
For example:
•If you want to edit the Global Wiki that is available for all AyaNova users (if their security group has access to Object.GlobalWiki of course), select the Wiki menu from the main AyaNova menu

•If you want to edit the Wiki page for yourself, select the Wiki in your <Username> navigation pane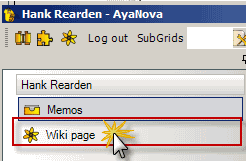 •If you want to edit the Wiki page for a specific service workorder, select the Wiki menu option in the service workorder entry screen
2. To edit that Wiki page for that object, you must be in Edit mode. Select the Edit menu option

within that Wiki page

3. Each Wiki object automatically by default will have text entered that identifies that object the Wiki page is for. You can edit this text of course.

4. Web URL's that are entered with http:// will automatically be hyperlinked in Edit mode. Email addresses will display hyperlinked once you have saved and have exited out of the Wiki page and are viewing the Wiki page.