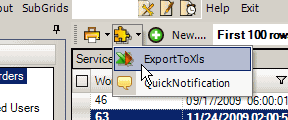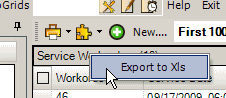 The Export to XLS plug-in:
•Export all records from a grid; or filter to show specific records to export; or select specific records to export
•Exports all columns available from that grid
•Exports in Excel BIFF8 format compatible with Excel 97 or newer, OpenOffice Calc or any other program that can read Excel 97 files.
•The export column order does not follow the grid column order the AyaNova user is viewing so as to ensure every export is consistent in case the user has formulas etc that rely on column order
•The sort order does follow that in your AyaNova grid
Requirements:
•You don't need Excel or Open Office etc installed on your computer to be able to run this utility
•Your 45 day trial includes the Export to XLS optional add-on license so you can fully try it out.
•Purchase the Export to XLS optional add-on license from the Purchase web page
•Or if your company is already licensed for AyaNova and would like to trial, contact us with the information from your Help -> About AyaNova and request a temporary key to trial.
•Requires that the Export to XLS program files be installed to the computer itself, where the Export to XLS utility will be run on.