Things to remember about Import AyaNova scheduled items
1. Must log in as an AyaNova schedulable user
2. Only scheduled items newer than the date it is right now will be imported
3. Closed workorder items not imported
4. What is imported from the workorder is based on the Workorder Item Summary Template set up in your Global Settings
Importing AyaNova Schedule Items into Outlook
1. In Outlook, view the Calendar section
2. In the Calendar main menu, select AyaNova -> Import AyaNova schedule items

a. If this is the first time selecting any AyaNova option in this session of Outlook, the OLI login screen will appear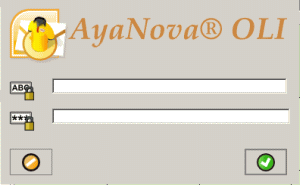 b. NOTE: Log in as the AyaNova schedulable user that you want AyaNova scheduled items imported for.

c. If already logged in to OLI but not as a schedulable user, just exit out of Outlook, wait a minute for Outlook to completely close out, and then run Outlook again so that you can now log in as a schedulable user when selecting to import AyaNova scheduled items
3. An Outlook calendar called AyaNovaSchedule will be created and all future scheduled AyaNova items for the logged in schedulable user will be imported into this Outlook calendar.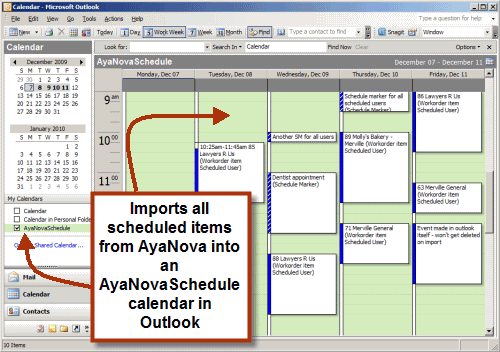 •NOTE: Imports only scheduled items (Schedule Markers and workorder items) for the currently logged in user
•NOTE: Imports only items newer than the date/time it is right now that you performed the import. occurring from time of import forwards. Previously scheduled items will not be imported.
For example, if after importing nothing shows in your AyaNovaSchedule calendar in Outlook, it is because you do not have any scheduled items in AyaNova that are newer than the date and time it is right now.
•NOTE: Does not import Closed workorder items
5. Open an imported event in your Outlook to see what has been imported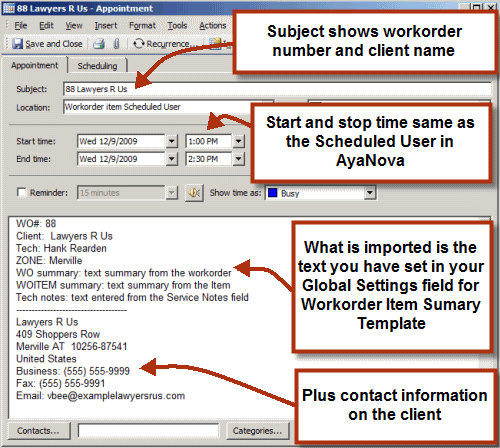 •The details imported in the Outlook event are based on the Workorder Item Summary Template set up in your Global Settings
•Plus also imports the client's contact information - address, business, fax and mobile phone numbers and the email address.
6. You can run the menu option Import AyaNova scheduled items as often as you like.
•When the menu option is run, the existing imported scheduled events are compared between AyaNova and the Outlook AyaNovaSchedule calendar. And if have changed, deletes the Outlook AyaNovaSchedule calendar events and imports again from AyaNova so you always have the latest information in your Outlook AyaNovaSchedule calendar
•If you have created new events in the Outlook AyaNovaSchedule calendar directly, these are not removed when you import again from AyaNova - only those originally imported.