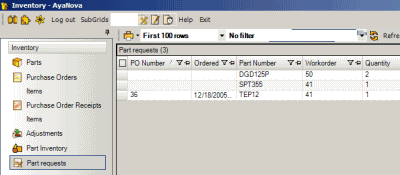 The Part Requests grid screen displays parts that have been requested via service workorders, showing whether ordered or not, so that you can see at a glance if a Purchase Order is needed to be placed for part requests.
For example: at the beginning of each day (if you normally order once a day) filter the Part Requests grid by those that do not have a PO number. If any records show, you will then know to create a PO for that wholesaler and order the requested parts
Part Requests will also display within the Purchase Order via the Part Requests List menu option so you can easily select what you do want to order from part requests. If you do not wish certain columns to display in the grid, just right-click on the column heading to bring up a list of all displaying columns and uncheck it.
Note that you can also localize labels to display whatever you want - see also: Localize field labels
The Part Requests that show in this grid are from parts you have requested via a service workorder. See Part Requests subgrid of the service workorder for more details.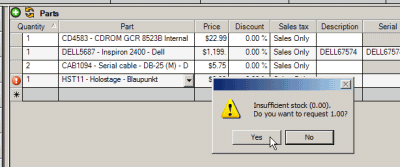 Part Requests grid field columns
| | | |
| --- | --- | --- |
| Part Warehouse | Displays warehouse name | Select to open Warehouses subgrid |
| Part Name | Displays part name | Select to open Part entry screen |
| Part Number | Displays part number | Select to open Part entry screen |
| Manufacturer | | |
| Manufacturer Number | | |
| Workorder | Service workorder number | Select to open the service workorder where this part was requested from |
| Closed | Indicates if the workorder is itself closed or not | |
| Record created | Date part was requested | |
| Wholesaler | Wholesaler for this part | Select to open vendor entry screen |
| Wholesaler Number | | |
| PO Number | Number of PO this part was ordered on | |
| Ordered From | Wholesaler actually ordered from | Select to open vendor entry screen |
| Ordered Date | Date PO was ordered | |
| Expected | Date PO is expected to be received | |
| Quantity | Quantity requested via the workorder | |
See also:
Moving and sorting columns in a grid