Edit an existing Region by selecting it from the Regions grid in the Administration navigation pane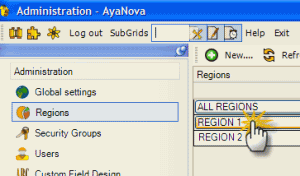 Delete a Region by selecting the Delete menu option in its entry screen.
Do note that a Region can not be deleted if it is the "default" region - the region that signifies all regions. If you attempt to delete it, you will receive the message Error: The default Region can not be deleted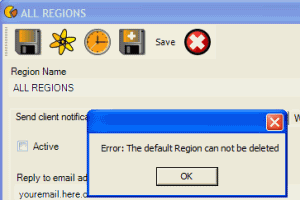 Create a new Region by select the New...

menu option at the top of the Regions grid in the Administration navigation pane which will open up a new Region entry screen.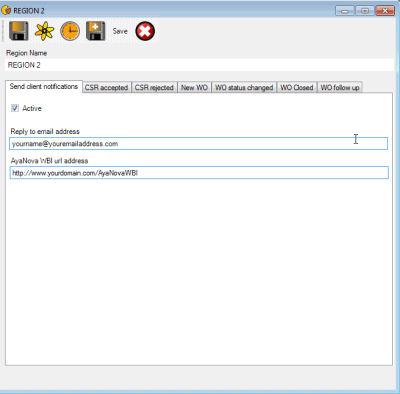 Region Name
Enter in a descriptive name for the Region Name. The Region Name is what is displayed in drop down selection list - i.e. in the Client entry screen, the User entry screen etc.
Active
If you do want clients to receive notifications for the active events identified in each specific tab, checkmark this Active field under Send Client Notifications
Reply to email address
Enter here the email address you want to display in notification emails sent to clients.
AyaNova WBI url address
Enter here your WBI URL address if you want to use the WBI URL tag in any notification template.
See Client Notifications for details on configuring of each client notification and notification template design.