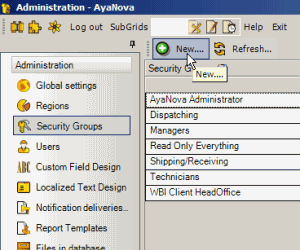 The Security Groups grid is available via the Administration navigation pane - of course the screenshot above is just an example of security groups, as you can create your own.
The Security Groups grid lists all security groups via one column – the security group name.
To create a new security group, select the New…

menu option at the top.
The menu option Refresh

refreshes the list of security groups
To view or edit the existing security group access rights, click on the security group name.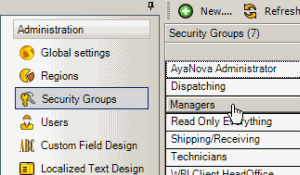 Security Group internal object: Object.SecurityGroup
NOTE: Only if the user is of User Type Administrator User will this user be able to view the Security Groups grid
Forbidden: User of that security group can not access the Security Groups grid at all nor entry screen

Read Only: User can view the Security Groups grid and entry screen but can not edit

Read/Write: User can access the Security Groups grid, view, create and edit
Read/Write/Delete: User can access the Security Groups grid, view, create and edit and delete