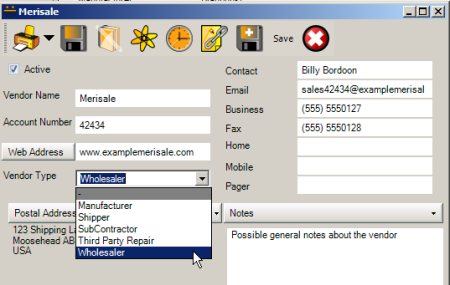 There are five pre-set types of vendors:
1. Manufacturers refer to those that create the Parts or may be to whom you ship units to for outside service. For example, Samsung is a manufacturer of the computer monitor model SyncMaster 711T. Manufacturers are selected in Part entry screen, Outside Service sub-section of workorder entry screens and in Unit Model entry screen.
2. Wholesalers refer to those where you can purchase a number of different Parts at less than retail price. For example, Ingram is a wholesaler of computer related parts. Wholesalers are selected in Part entry screens and Unit entry screens.
3. Shippers refer to those with whom you ship or receive through. You may also receive tracking numbers for your shipments. For example, FedEx is a shipper. Shippers are selected in Outside Service sub-section of workorder entry screens
4. Subcontractors may be those that you send units to that need repair. Subcontractors are selected in the Outside Service sub-section of workorder entry screens.
5. Third party repair centers refer to where you may send warranty repairs. Third party repair centers are selected in the Outside Service sub-section of workorder entry screens.
And of course, you can localize these to whatever text you want using the Localized Text Designer too!
Security Group internal object: Object.Vendor
Forbidden: User of that security group can not access the Vendors grid nor entry screen at all

Read Only: User can view the Vendors grid and entry screen but can not edit it

Read/Write: User can access the Vendors grid, view, create and edit
Read/Write/Delete: User can access the Vendors grid, view, create and edit and delete
Vendors grid

To open an existing Vendor, select the vendor's name in the Vendor column
To create a new Vendor, select the

menu option to open an new empty Vendor entry screen
Vendors entry screen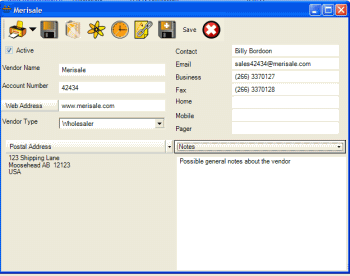 Active
If checked, this indicates that this vendor will be displayed in drop down selection lists appropriate to its vendor type.
It is not recommended to delete an inactive Vendor. If a vendor is no longer in business or no longer used, you should make the vendor inactive by un-checking it so that any history associated with it is maintained.
Vendor Name
This field is used to fill any Vendor list in AyaNova associated with that vendor type where you need to select a vendor.
Vendor names should be unique to make them easily selected from within the drop down selection fields.
If you have branches of the same Vendor with the same name to enter, we recommend you append to their name something descriptive so you can tell them apart when selecting.
For example you could append the Vendor name with the street name or city name or country or branch number if the Vendor numbers their branches
Account Number
This field would be for informational purposes.
Web Address
This is useful because you once you enter in the address here, you can just click on the Web Address button which will open up your default web browser and automatically enter in the URL to bring you to the vendor's website.
Vendor Type
Select what type of vendor this is. Identifying this here allows you to easily select the vendor from within other areas of AyaNova that display only certain types of vendors. For example, in the Outside Service screen field Shipped Via: only those vendors identified as Shippers would be listed.
Contact
Suggestion is to enter the first and last name of the main contact for this vendor in this field
Email
Enter in the main contacts email address here
Business, Fax, Home, Mobile, Pager
Enter appropriate phone numbers where indicated.
Postal Address and Physical Address
The Postal Address would be the address where they receive mail. The Physical Address would be where they receive deliveries or where they are physically.
You can switch between these two addresses by clicking on the drop down arrow to display, and then clicking on either the Postal Address or Physical Address.
Notes
These are notes about this vendor for viewing when on the vendor record screen only. They are not intended to be used elsewhere in the program.
See also: