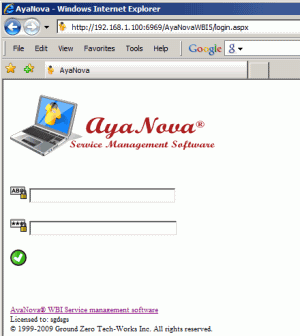 Above image is example showing WBI login screen that remote users would see
WBI is an optional add-on for AyaNova for remote users using just an Internet connection and a regular web browser to access AyaNova data live.
Your AyaNova users can log in with the same rights to features as via the AyaNova desktop interface.
Also too, your clients can log in via WBI to request service, view their requests and view their workorders.
A WBI license is required to use this optional add-on
Please refer to the WBI Help file for installation, configuration and use of WBI for the AyaNova user such as scheduling, creating and editing workorders, obtaining reports, and more; and the WBI Client Help file for use of WBI by a client for requesting service, viewing their requests and viewing their workorders.