MBI is an AyaNova interface designed to support cell phones, pda's, Blackberries and other small screen wireless devices equipped with a web browser and internet connection.
MBI stands for "Minimal Browser Interface"
This is a web interface designed to meet the needs of small screen devices and users who need fast access to essential information while on the road. It's designed to be accessed from any modern wireless device that supports the minimal web browser standards as well as regular PC web browsers.
With this interface remote users will be able to quickly check their schedule view and update work orders and schedule markers, view client and vendor details (with phone dial enabled links), read and send memos, and obtain a client signature.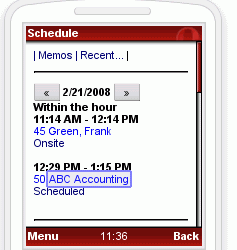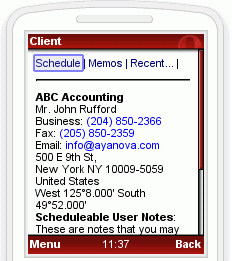 Above images show example viewing the Schedule and example viewing client contact details
The interface is designed for small size screens with pared down pages to save wireless web access fees. MBI features makes every effort to ensure that a user can get to the information they need as quickly as possible without taking time or space for anything that isn't absolutely required.
MBI is not intended to be a replacement for the much more full featured WBI web browser remote access add-on product which is more appropriate for full fledged PC or netbook based web browsing, or for the upcoming RI remote interface add-on.
MBI is targeted specifically for small screen devices.
A MBI license is required to use this optional add-on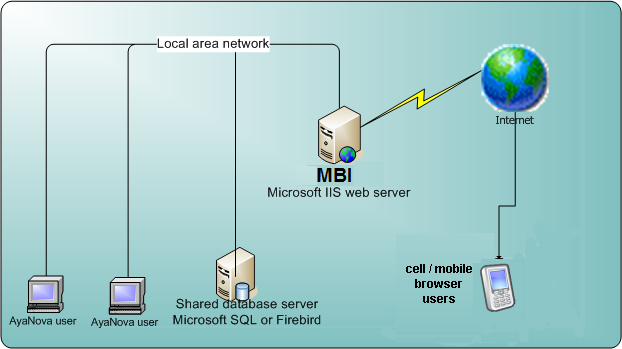 Requirements before proceeding:
The AyaNova MBI (Minimal Browser Interface) works with Microsoft Internet Information Server (IIS) to provide web browser access to small screen devices
The MBI Server requirements are as follows:
Additional software on this computer:
•IIS 5 or higher installed
•Microsoft .NET Framework 4
Minimum Hardware for this computer:
•As with the AyaNova database server, the higher the hardware specifications, the better the performance. If you are encountering slow response, you will want to upgrade your hardware. Minimum hardware requirements would be that for IIS
•The AyaNova MBI server files takes approximately 6.5MB of hard drive space
•Static external Internet IP address for your Internet router/firewall
•Your router/firewall has a static external IP address (you can not use a dynamic IP address as that means it constantly changes, and therefore your remote users won't be able to connect as won't know what IP address to use)
•Your router/firewall configured for port forwarding for the IIS computer.
Security:
IIS / firewall / router security:
If you are not comfortable with configuring your IIS / firewall / router, it is recommended that you call in a local IT networking professional to do so.
Any additional IIS security settings other than what is set when your IIS is default installed is beyond the scope of the support we provide.
If you wish to implement additional security settings, we highly recommend you first follow the default settings for setting up MBI confirming you can successfully access, and only after confirming the default setup is successful then make any changes, being sure to check after each change to see if affects MBI adversely.
If your data is highly sensitive:
Any information sent over the internet is susceptible to Man-In-The-Middle (MitM) Attacks and it is recommended if your data is highly sensitive, to implement Transport Layer Security, typically involving HTTPS, TLS and SSL.
SSL / TLS is enabled at the Microsoft IIS web server, not via AyaNova WBI or RI or MBI or Dataportal which do not have any special requirements or settings for encryption as that happens a layer below AyaNova at the web server.
How to procure and install an SSL certificate and enable SSL on an IIS web server is beyond the scope of the support we provide. A suggestion would be to search via Google https://www.google.ca/search?q=microsoft+How+to+implement+SSL+in+IIS
Be aware that SSL certificates need to be purchased from a certificate issuing authority and can be pricey however there is a new industry sponsored certificate authority providing no charge certificates which has been started up recently in an attempt to get everyone to start using encryption that might be of interest: https://letsencrypt.org/
AyaNova related:
•MBI is not a replacement for the AyaNova program, MBI is an extension of the AyaNova program.
•MBI needs to access a database server due to the nature of IIS - you can not use MBI with a stand-alone default installation of AyaNova. Do refer to the network configuration section to configure AyaNova for one of the network configurations before setting up MBI.
•MBI should be installed on a computer within the same LAN as the computer where the AyaNova database and AyaNova database server reside
•The latest version of AyaNova must be installed and operational on your IIS server before installing the latest version of MBI, and your AyaNova must be configured for network use before installing MBI on this computer
Mobile device requirements:
•Wireless data services from a mobile service provider
• A device with a web browser that supports XHTML Basic or XHTML MP or WML 2.x or greater. (the legacy WAP / WML 1.x are *NOT* supported)
•NOTE: Signature capture requires a browser that is HTML 5 compliant such as IE 9.0+, FIREFOX 3.0+, SAFARI 3.0+, CHROME 3.0+, OPERA 10.0+, IPAD 1.0+, IPHONE 1.0+, ANDROID 1.0+ .
• Some devices come with a less than ideal web browser. Opera makes a popular free web browser for wireless devices called Opera MINI that can be installed on many devices, more information can be found here: http://www.operamini.com/ Check whether it is HTML 5 compliant yet if using signature capture with MBI