•Tutorial displays example screenshots from a small screen device
•Although these tutorials are based on sample data in the sample AyaNova database, you can certainly follow similar steps when using your own data.
Don't just bill out faster.... get paid faster too!
See http://www.ayanova.com/creditcardprocessing.htm for suggested list of some of the credit card processing solutions that are available.
This tutorial example is to show how quickly and easily you can process credit cards using one of the many available mobile credit card processing solutions now available.
In this tutorial example, we are assuming a completed sign up with Square, have received the no-charge card reader in the mail, and have set up the basics in the Square dashboard (i.e. company name, company logo)
1.Service for a customer has been completed.
For example: Onsite at ABC Accounting for sample workorder #70, entering todays date and time to return the loaner.
2.Customer has been advised of the total charges.
3 ways customer could be advised:
1)Your Client Notifications have been configured so that AyaNova automatically emails the customer a detailed report.
2)Client logs in via their Customer RI or Customer WBI, and views details of their service.
3)Bring up the report on your device, and show to your customer

3.Customer wants to make payment now.
4.On your mobile device, connect to your card reader.
In this example with Square, the card reader is inserted into the headphone jack. Some card readers connect via Bluetooth.
5.Load the mobile app for the card reader.
Square's mobile app is available via Apple Store or via Google Play Store for download at no charge.
Check with your credit card processing solution.
6.Enter in the total amount due.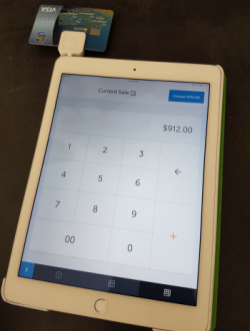 7.Swipe the customer's card.
8.Pass over the device for the customer to sign. Customer signs.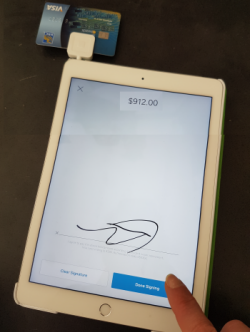 9.Submit and that's it! Your credit card processing partner will deposit your funds, no need to wait 30 to 60 days to get paid!
We suggest entering the confirmation # received from the payment processed into the Invoice # field of the service workorder.
Check out more features of your your credit card processing application including:
•send an immediate payment receipt via email to your customer
•print a payment receipt if your device has the capability
•and more
We encourage you to explore and check them out!