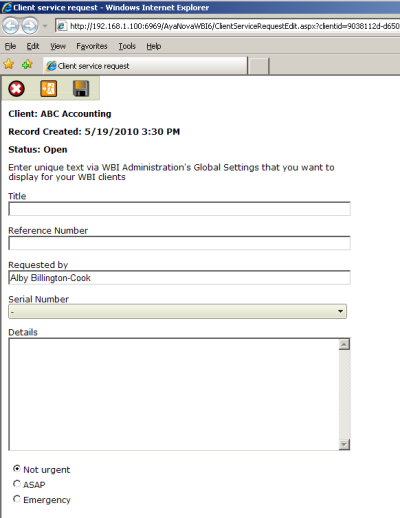 Image above is from the Service request form that a client can fill out online using a web browser to request service from you.
Customer Service Requests are requests for service made by "clients" via the Client WBI optional add-on.
"Clients" could be customers of your service company, clients could be properties if you are a property management company, clients could be offices in your building that you schedule service for, etc. See also the section on Clients.
The Client WBI optional add-on allows you to offer your clients the ability to request service via the web without having to call or email without knowing for sure if anything is being done; as they can visually see via their Client WBI screen when CSR's have been accepted or rejected, and what service workorder the request is now tied to once accepted.
You can also be automatically notified when a client requests service so no delay in responding.
Do check out details about the optional add-on WBI and other remote access options on our website at http://www.ayanova.com