The following identifies the information that is imported into the AyaNova client from a QuickBooks customer :
If the information is not listed here, it does not get imported from the AyaNova client via QBI into a QuickBooks customer.
Note the following:
•As QBI can not identify if the first line of what is in the Address field (#7 below) has the client's company name in it or not - therefore all lines from the Address field in a QuickBooks client company record is imported into the Street field of an AyaNova client record.
•QuickBooks Tax Codes are not importable into AyaNova. An invoice in QuickBooks created by QBI uses the tax codes set up for the QuickBooks object (i.e. client) - QBI does not transfer or do anything with the tax code selected in the AyaNova service workorder.
The fields of data that are imported from a QuickBooks Customer object to an AyaNova Client object are:
QuickBooks customer AyaNova client
1 Company Name Client Name
2 Contact Contact
3 Phone Business
4 Fax Fax
5 Alt. Ph Home
6. Email Email
7. Bill To Postal Address
8. Ship To Physical Address
9. Account No. Account Number
11 Address Street
12 City City
13 Province/State State or Province
14 Postal Code / Zip Postal / Zip Code
15 Country / Region Country
QuickBooks client fields identified: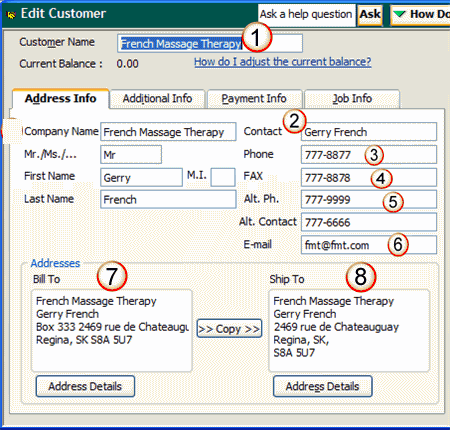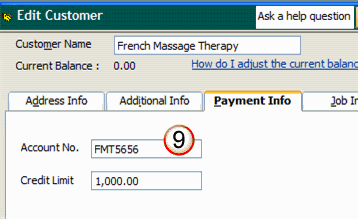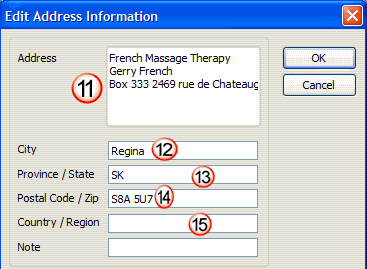 AyaNova client fields identified: