The following identifies the information that is imported into the AyaNova vendor from a QuickBooks vendor :
If the information is not listed here, than it does not get imported.
NOTE the following:
•The AyaNova vendor type set in the imported vendor entry screen is dependant on the QBI object vendor type selected before importing
For example, if as per the screenshot below, you select Wholesaler, than any QuickBooks vendors imported would be set as the AyaNova type Wholesaler.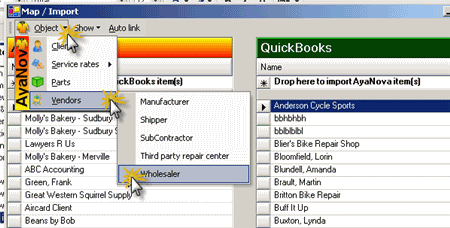 As an AyaNova vendor is one of five set types, whereas QuickBooks you can create as many types as you wish - the AyaNova vendor types is not set by the type as set in QuickBooks - only set by the QBI object vendor type selected before importing.
•The QuickBooks vendor address is imported into both the Physical and the Postal Address of the AyaNova vendor.
The fields of data that are imported from a QuickBooks Vendor object to an AyaNova Vendor object are:
QuickBooks vendor AyaNova vendor
1 Vendor Name Vendor Name
2 Contact Contact
3 Phone Business
4 Fax Fax
5 Alt. Phone Home
6 Email Email
7 Address Postal and Physical Address
8 Account No. Account Number
*You will note that as there are many ways of entering in a telephone area code, that QBI is not able to distinguish what is the phone number and what is an area code from the QuickBooks entry - so all numbers are entered into the Phone column in the AyaNova client contact.
QuickBooks vendor fields identified: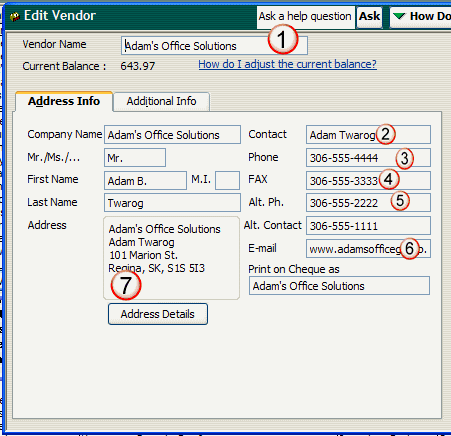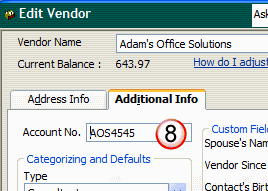 AyaNova vendor fields identified: