If you have a number of service workorders ready for invoicing that are all for the same client, you can have QBI have QuickBooks invoice each service workorder individually by selecting the specific workorder to be invoiced.
1. QBI lists by the client. In the screenshot below we have service workorders ready to be invoiced for three different clients.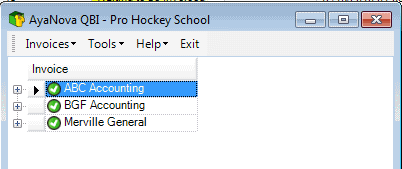 2. You can expand to see what workorders are for each client by select the
beside each client name <note how the
image turns to a

image when you select it to show it is expanded>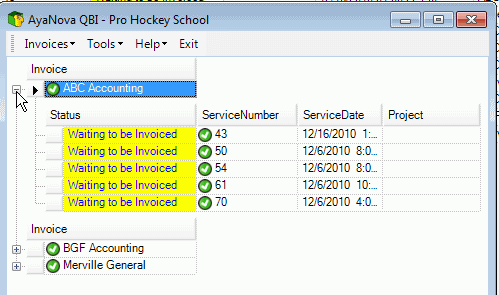 3. To invoice a specific AyaNova service workorder into one QuickBooks invoice
a. Select the row object indicator (the square to the left of the workorder row if multiple workorders are listed - or if the client has only one workorder, you can select the row object indicator to the left of the client name)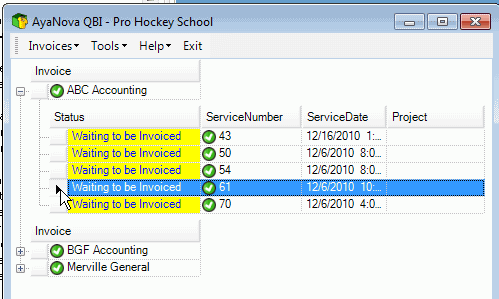 b. Now either right-click and select Invoice selected items to QuickBooks... One workorder per invoice
c. Or with that object indicator selected, select the menu Invoices -> Invoice selected items to QuickBooks... One workorder per invoice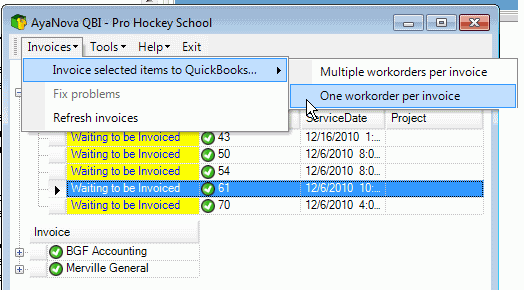 4. Once a service workorder has been invoiced, it no longer displays in the list and you can continue invoicing individually or multiple service workorders for the same client.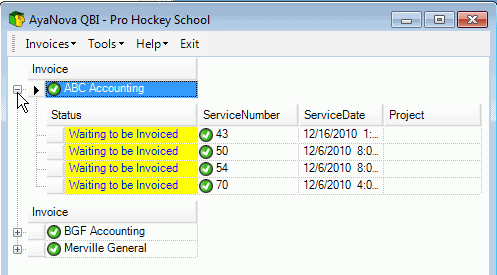 Do be aware because of the QuickBooks invoice space limitations, your descriptive text may cause the invoice to span many pages.