In this tutorial we will go through the steps to apply custom fields to the Workorder Item business object
•It is highly recommended that you review this Help file's entire section on Custom Fields and the Service Workorder Custom Fields section for complete overview , suggestions on use, tips on use and more.
•You must be logged into AyaNova for this tutorial as a user with full access to the Administration navigation pane Custom Fields Design such as the user test or the AyaNova Administrator user manager if using the sample data
1.First, let's view the existing Workorder entry screen so that you can see what it looks like without custom fields.
a.Move to the Service navigation pane, and open any workorder
b.See how the subsections of the workorder item presently looks - Unit, Scheduled Users, Tasks, etc - but no Custom Fields tab.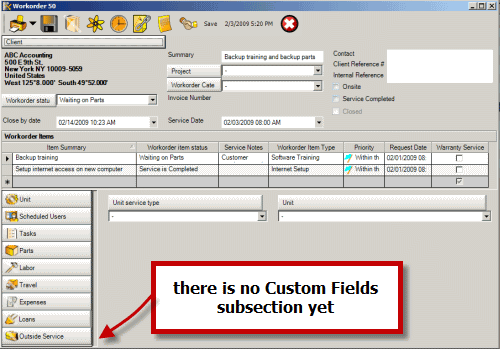 c.Close the workorder entry screen
2.Move to the Administration navigation pane, and select Custom Field Design
3.Select the Workorder Item business object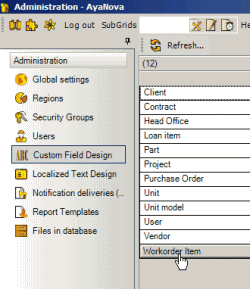 4.Make visible the first three custom fields by placing check-marks in them
5.Set the Custom0 as data type of Text, Custom1 as data type of True/False, and Custom2 as data type of Date
6.Enter the custom display text for Custom0 as Additional Text Field, for Custom1 as Is Light Green?, and for Custom2 as Date showing for end of use
7.Select the menu option to Save & Exit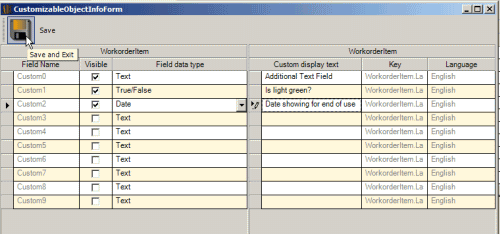 8.As localization is loaded when the user first logs into AyaNova, you will log out of AyaNova, and log back in
9.Now open a Service Workorder again and you will see that there is now the Custom Fields subsection. Select it and see that those custom fields labeled with that data type set are there.
10.If you wish the Workorder Item to no longer display custom fields, return to the Custom Field Design in the Administration pane, select the business object Workorder Item, and uncheck the Visible columns, save and exit.