In this tutorial example, we will go over the basic steps applying a manual Banked Service amount to a client.
•An example of why you might use this feature is a client has pre-paid for service, you want to note that in AyaNova, so that you can apply labor charges from workorders against this pre-paid service.
•It is highly recommended that you review this Help file's entire section on Service Workorders, Labor and the Banked Service section for complete overview , suggestions on use, tips on use and more.
1.Open an existing sample client such as Lawyers R US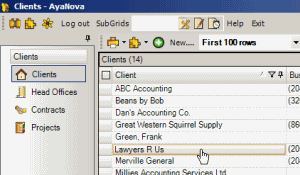 2.Check-mark the Banked Service box if not yet already done, and select the Bank Service jump button to open the Bank Service sub-grid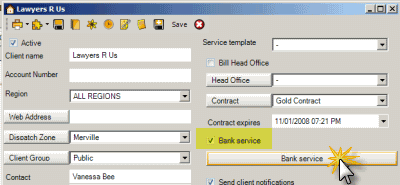 3.Select the New… menu option

to open up a new banked service entry screen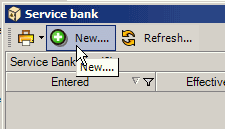 •Enter in the Description which is usually why you are entering it. It may be to make an adjustment; it may be to enter in a pre-paid dollar amount, etc. In our tutorial, it will be because the client has pre-paid $250.00
•Enter in 250 in the Currency field
•Do note that the field Effective Date is for informational and reporting purposes only - edit to a specific date if needed.
•Select OK to save the entry and return to the Bank Service grid.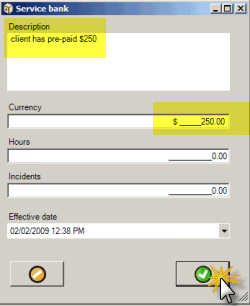 4.This will now show as a record in the Banked Service grid for this client.

•Note that the Currency Balance column will show the remaining balance
•Records once entered in Banked Service are not editable for control and accountability purposes. If a mistake is made and saved in entry you would need to make a new entry with a minus amount to adjust.
•The screenshot above may not show exactly as your Banked Service grid, as it depends on what columns you have set to show.
5.Close the Service Bank grid.
6.Close the Client entry screen – you will note that if you had selected the menu option Exit or the X in the upper right-hand corner of the user entry screen, that AyaNova will ask "Do you want to save changes?". This is because Banked Service is a part of the client, and you have edited the client even though it was a sub-screen.
7.Be sure to click on Yes to save your entry in the Bank Service grid.
8.Now labor entered in the Labor grid in a service workorder can be applied against banked service for this client.
9.Perform the How do I apply labor against Banked Service automatically via a Service Workorder?
See also:
How do I Apply Labor against Banked Service automatically via a Service Workorder?