Requirements before installation and use:
•Log in as a user with minimum Read/Write to the type of record you wish to import/export.
An example:
Your security group for your user has Object.Client set to ReadOnly.
Therefore you will receive the following error if you attempt to import clients because your security group rights to Object.Client needs to be at minimum Read/Write

Installation:
1. Perform the AyaNova installation on this computer where you want to run the ImportExport.csv from.
•If you had previously installed AyaNova, no worries, just run the AyaNovaSetup.exe file again overtop. Your previous selections will show already selected too.
2. During the AyaNovaSetup.exe installation, select the Install Import/Export to csv plugin

3. Complete the installation
NOTE: If installing overtop of an existing AyaNova installation that has already been configured for network use, and you get a message asking if you wish to overwrite the config.txt, select No.

NOTE: if you get a message such as below about replacing a file, this is occurring because you have something running. Click Abort.
Then check to make sure you do NOT have any AyaNova program running on this computer (i.e. the desktop AyaNova, the network Generator, the dataportal, etc
Then run the installation again confirming no longer getting the message.

4. It is recommended to perform an export of the existing type of records first, so you can familiarize yourself with the format of the csv file needed for importing that type of record.
5. Run the ImportExport.csv utility from within the AyaNova program:
•From the main AyaNova menu bar to export or import or to set Duplicate import options if licensed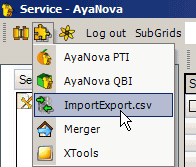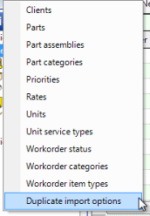 •From the Parts grid to export selected part records
•From the Units grid to export selected unit records
•From the Clients grid to export selected client records


•From within a specific Part entry screen to export that specific part
•From within a specific Unit entry screen to export that specific unit
•From within a specific Client entry screen to export that specific client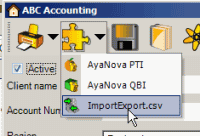 NOTE: your AyaNova user log in must have minimum Read/Write to the object to be able to import.
For example, if your security group for your user has Object.Client set to ReadOnly then you will receive the following error if you attempt to import clients