•Tutorial displays example screenshots from a small screen device
•Tutorial is based on expectation that user logged in has rights to view and edit a service workorder record.
•Although these tutorials are based on sample data in the sample AyaNova database, you can certainly follow similar steps when using your own data.
In this tutorial example we will walk through obtaining the client's signature for a service workorder that has been set to Service Completed:
1. We will assume that you have logged in via your RI, and have entered in details of service provided in a specific workorder. In our example, this will be sample workorder #40
2. Save the workorder if not yet.
3. Checkmark Service Completed and save.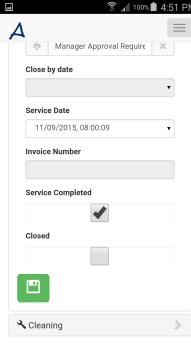 4. If you wish, you can show the client the service provided, billables, etc whatever you want them to see, by selecting the appropriate report that will show the data you want.
5. To have the client sign off, select the workorder's menu, selecting Sign.
If you do not see the menu option Sign, that would be because your workorder is NOT yet saved with checkmarked Service Completed.

6. Pass your device to your client to sign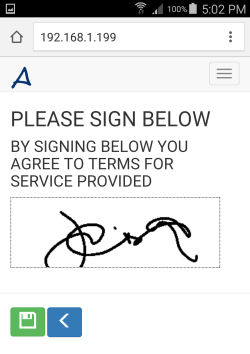 What shows as the signature header, footer and/or title is set in your Global Settings. Don't forget to reset your IIS if you make changes before logging back into RI.
7. Save

8. The signature along with the date taken will display.