You can print standard workorder reports from the graphical Schedule screen, as well as a graphical view of of the Schedule screen.

Some people prefer a graphical printout rather than a printed list so that they can see at a glance when their time is booked throughout the day.
In this tutorial example, we will go over the basic steps of printing out a graphical day view of the schedule for a single schedulable user.
•It is highly recommended that you review this Help file's entire section on the Schedule Screen and Printing for complete overview , suggestions on use, tips on use and more.
1. View a specific date on the Schedule screen that has a number of scheduled items for schedulable users (so you have something to show in the print preview).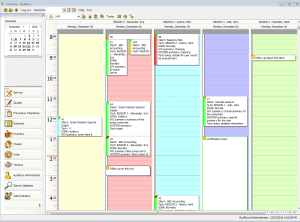 2.Select the

Print graphical menu option in the Schedule screen and the Page Setup screen displays

3.As you are viewing a single day on the Schedule screen, the Style Type: defaults to Daily Style

4.The Start Date and End Date will default to the same date you are viewing on the Schedule screen.
5.The Page Setup defaults the Print From: as 7:00AM and the Print to: as 6:00PM. You can edit this if you want. In this example, we will leave as is.
6.Select Print Preview so that you can preview what will print out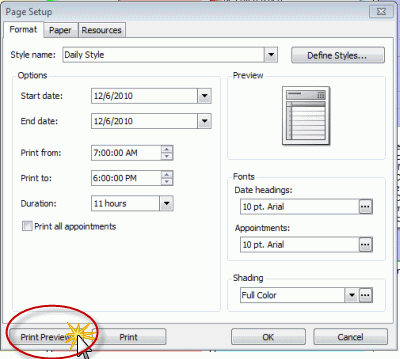 7.The Print Preview shows what will print. By default it will display the schedulable users presently showing on your Schedule screen. For example below, all schedulable users from the trial data are showing in the Schedule screen so all show on the Print Preview.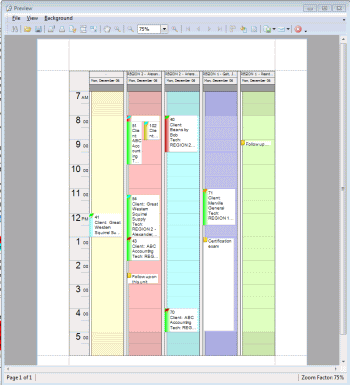 8.Exit out of the Print Preview
9. Let's say we want to print out a graphical view for a specific schedulable user. You can either select a Schedulable User Group of the specific user you want to print for or select the specific user in the Resources tab
10. Select the Resources tab
11. Place a check mark in the Print using the custom collection. Note how the list of schedulable users now becomes active for selection.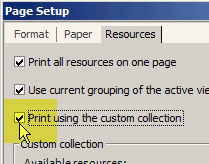 12. Select a specific schedulable user - in our example screenshot we selected Herb Arlens


13. Select Print Preview
14. The Print Preview showing just the one schedulable user now displays. Print if desired