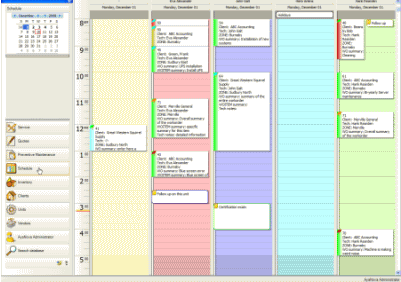 The Schedule screen is the calendar and scheduling component of AyaNova.
With the Schedule screen you can:
•Visually manage scheduled workorder items within a time period.
•Use your mouse to drag and move a scheduled workorder item to another time period or even another schedulable user
•Add to existing workorder items from the Schedule screen
•View schedule for single scheduled user or for multiple scheduled users
•Quickly create new work orders directly from the Schedule screen.
•View any time range such as day, week, work week or monthly by selecting in the Date Navigator
•Create and view Schedule Markers
•Create Scheduled Users Groups
•Print out dispatch orders for scheduled users
•Print graphical views of the Schedule screen for one or more schedulable users.
•View a day in horizontal view time line
The Schedule screen displays workorder items assigned to schedulable users. As a service work order can have multiple workorder items, and each workorder item can have multiple scheduled users, although the display will state the overall workorder number, it is in relation to a particular workorder item within that service workorder.
The Schedule Screen is a great tool for dispatchers to determine who is already scheduled and schedule accordingly, and for schedulable users to view their schedules.
Security Group internal object: Object.ScheduleForm
Forbidden: User of that security group can not view the Schedule screen at all

Read Only or Read/Write or Read/Write/Delete: User can view the Schedule screen. Ability to create schedule markers and workorder items, and edit existing depends on the security group setting for those objects.