You can print service workorder related reports from the Service navigation pane grids, as well as print from the Schedule screen. For example, a technician might want to print off the Dispatch Reports for each workorder he is performing service for before going onsite for the day.

In this tutorial example, we will go over the basic steps of printing out the Sample Dispatching Reports for all workorder items of a single schedulable user via the Schedule screen.
•It is highly recommended that you review this Help file's entire section on the Schedule Screen and Printing for complete overview , suggestions on use, tips on use and more.
•NOTE: If using Regions, do note that users can only view data that is assigned to the same region as theirs. So if you created a workorder and assigned a schedulable user to that workorder, but that client is of one region and the schedulable user is of another, be aware that the schedulable user will not see that scheduled workorder when they log into AyaNova.
1.View the Schedule screen
•Do note that when logged into AyaNova as a schedulable user such as the sample user Hank or the sample user Herb, your schedulable user name by default shows in the Schedulable User Group selection in brackets
2.Hold the CTRL key on your keyboard and use your mouse to click on each of the workorder items for Hank that you want a dispatch report printed for. You can tell that they are selected because they will be highlighted as shown in the screenshot below we have selected three scheduled workorder items for Hank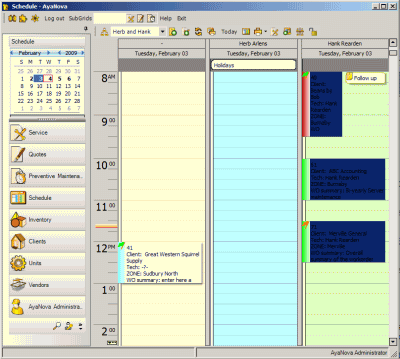 3. Now select the drop down menu option Print selected work orders
•Do note that this menu option only appears once you have selected one or more workorder items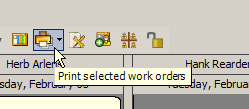 4. Select the report you want to print - in this tutorial, we will pick the Sample Dispatching Report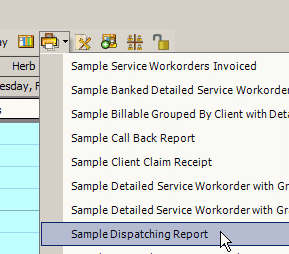 5. The Print Preview of the report displays. Print as desired