Do refer to the AyaNova Help file for AyaNova's features. We only list below differences between the main AyaNova Windows program and WBI
NOTE: WBI will only save edited data when you tell it to. This is unavoidable due to the nature of web technology. If you close the browser window in any other way than using the menu buttons without saving, your changes will be lost
Workorder Item:
•Refer to the Help topics Adding New Records in a SubGrid , Editing Existing Records in a SubGrid and Selecting a Workorder Item subgrid for information on

adding a new workorder item,

deleting,
editing,
saving any edits, and

selecting a workorder item.
Workorder Item Sub-Grids:
•Via WBI, the workorder item sub-screens such as Parts, Labor, Tasks etc are accessed by selecting the associated tab. In the screenshot below, the first workorder item record is active (as shown that it is green highlighted) and have clicked on the Labor tab to view labor for this specific workorder item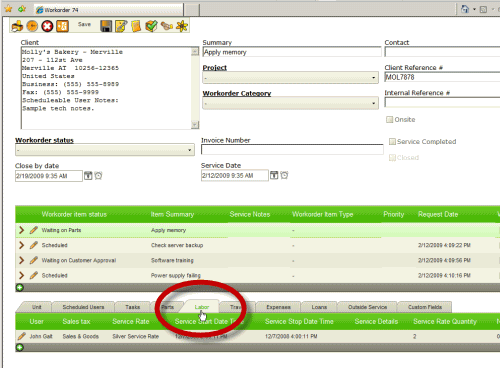 •If the workorder has multiple workorder items, to be able to view the associated Labor, Parts, etc with a specific workorder item, you must first "select" the workorder item. Refer to the Help topic Selecting a Workorder Item subgrid on using

to select a workorder item.