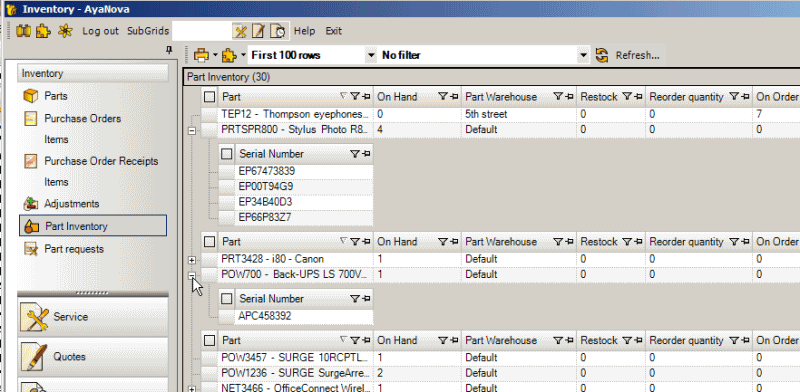 Good inventory control is essential to properly running a business.
AyaNova makes inventory control easy for you to track, print out reports and always be aware of your stock levels.
The benefits of utilizing Inventory features of AyaNova are:
•Track whether parts are used in service, to be ordered, or on order via purchase order.
•Able to maintain an accurate count of inventory – too much in stock ties up collateral, too little results in customers waiting and service unable to be performed and possibly lost sales
•Able to assign inventory and track inventory flow with multiple warehouses
•Able to request parts to be ordered via workorders
Even if you do not use the full Inventory feature of AyaNova, Parts would still be created so they can be selected within a quote, preventive maintenance item or within a service work order, identifying the quantity used or to be used and price.
Whether entered by the dispatcher to inform the scheduled user what parts need to be taken onsite, or by the scheduled user after service has been performed to ensure the parts get billed to the client, entering Parts is recommended.
See also:
How do I enter opening inventory?
How do I create a Purchase Order based on Part Requests?
How do I Receive a Purchase Order?
How do I create a Purchase Order based on Restock Level for Parts for that Vendor?