In this tutorial example, we will go over the basic steps entering a manual Unit Meter Reading for a unit.
•For example, you might be creating the unit for the first time and entering basic information including the meter reading, that is not tied to any specific service performed on this unit.
•It is highly recommended that you review this Help file's entire section on Unit and Unit Meter Reading section for complete overview , suggestions on use, tips on use and more.
•NOTE: Unit Meter Readings entered manually do not display in the Unit Meter Reading column in the Service navigation pane's Items grid, only those entered for that workorder item via the workorder item menu option Unit Meter Reading will.
1.Open the Unit entry screen by moving to the Units navigation pane, and clicking on a Unit serial number in the Unit grid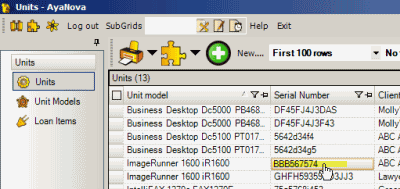 2.In the Unit entry screen, make sure the Unit Metered is checked and then click on the Unit Metered jump button
3.The Unit Meter Reading grid displays

4.Select the

New… button on the toolbar within the Meter Reading grid to open the Meter Reading entry screen
5.Enter in the following fields:
a.In the Description field enter why this is being entered Client called in meter reading
b.In the Unit Meter Reading field enter in a reading such as 32457
c.Date of Reading – this will default to today's date, but you can change it to correspond to when you actually took the reading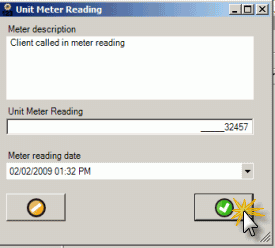 6.Click on the OK button to save and close the entry and view it now in the grid.

7.Once an entry has been saved to the Meter Reading grid it cannot be deleted or edited. If you made a mistake, enter in a new Meter Reading.
The above is considered a "manual" entry of the a unit meter reading.
•If you enter the meter reading via a service workorder where this unit is selected in the service workorder, the service workorder number will automatically be identified in the unit meter record in the Meter read on field. See the next tutorial for an example of this.