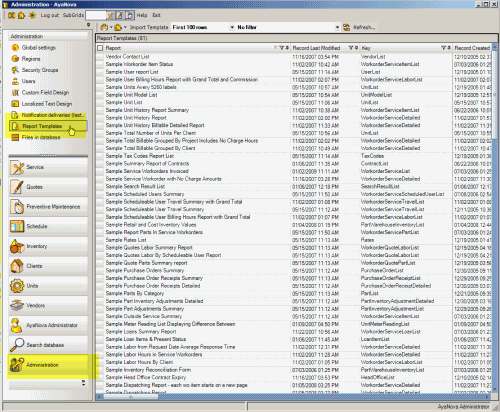 The Report Templates grid in the Administration navigation pane displays reports that are presently available within your AyaNova database.
From this grid you can
•Make reports inactive so they do not display for selection
•Change report names as they are displayed for selection
•Identify the size of the report, perhaps determining why a report takes longer to print than another.
•Determine who created the report template and who last modified it and when.
•Import report templates obtained from other AyaNova users, consultants, and from the AyaNova website
•Export report templates to provide to other AyaNova users
•Assign report template access for a specific security group
•Assign report template access for users of a specific region
This Reports grid is not where you customize the report template; it is for managing reports as a whole.
If you need to edit the actual design of a listed report template, you would go to that grid or entry screen from where that report template is selected, and open it via the Design view to edit it.
For example, if you wanted to customize the Client Banked Service Balance report template, you would open the Clients navigation pane, open the Client grid, drop down the Print selection, hold the SHIFT key and select the report template Client Banked Service Balance
Security Group internal object: Object.Report
NOTE: Only if the user is of User Type Administrator User will this user be able to view the Report Templates grid
Forbidden: User of that security group can not access the Report Templates grid at all (nor can view any reports from any grid or entry screen has access to)

Read Only: User can view the Report Templates grid but can not edit (and can view reports from grids and entry screens have access to but not create new or edit existing)

Read/Write: User can access the Report Templates grid, view and edit (and can view reports from grids and entry screens have access to, as well as create new and edit existing report templates)
Read/Write/Delete: User can access the Report Templates grid, view and edit and delete (and can view reports from grids and entry screens have access to, as well as create new and edit existing report templates)
Report Template grid columns:
| | | |
| --- | --- | --- |
| Active | Identifies if this report template is active or not | |
| Key | Identifies from where this report template is available from | |
| Record Created | Displays the date this report template was first created | |
| Record Created By | Displays who first created this report template | |
| Record Last Modified | Displays the date this report template was last modified | |
| Record Last Modified By | Displays who last edited this report template | |
| Region | Displays the Region this report template will display for | |
| Report | Identifies the name of the report template as it displays in AyaNova | Select to open the Report Template display window |
| Size | Identifies the size this report template takes up in the database | |