•Tutorial displays example screenshots from a small screen device
•Tutorial is based on expectation that user logged in has rights to view and edit service workorder records.
•Although these tutorials are based on sample data in the sample AyaNova database, you can certainly follow similar steps when using your own data.
In this tutorial example we will walk through adding a serialized part to your workorder.
1. We will assume that you have logged in via your RI as a user that has rights to view and edit service workorder records.
2. Open a service workorder to its form. In our example, we will open service workorder 64.
You might select via your Dashboard, or via Recent... or via Search. Up to you!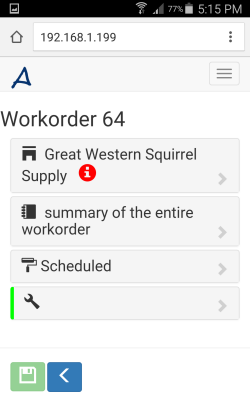 3. Drill down to the Parts subsection of the workorder item and select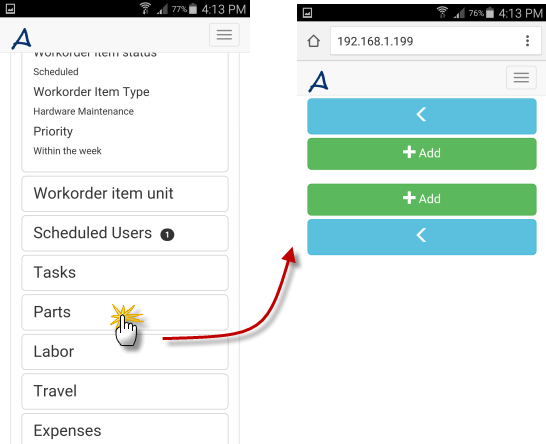 4. Click on +Add which will open a new parts form for this workorder item
5. Select Warehouse that has this serialized part in stock, select the serialized Part, then can select its Serial Number.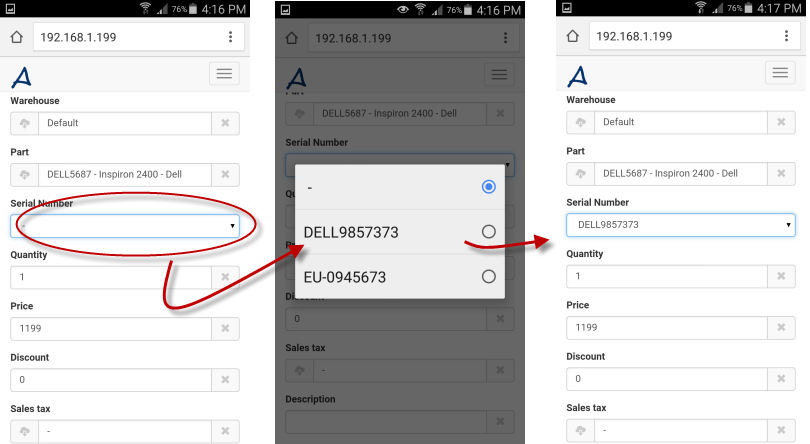 6. Checkmark the Used In Service. As if you know the serial number and have added it to the workorder, this means this specific part with this specific serial number is actually physically taken out of inventory, so you should indicate so by checkmarking Used in Service!
Once saved with Used In Service, this part record can no longer be edited.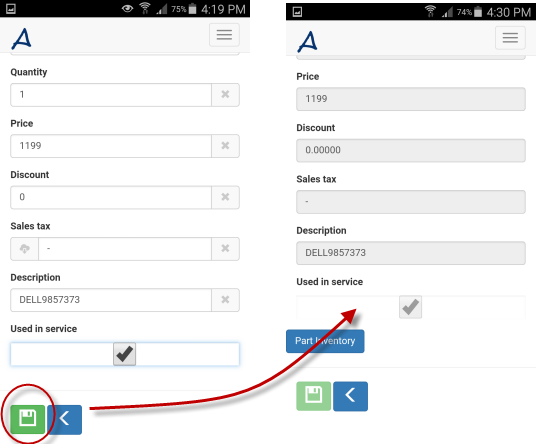 If you need to edit, you first need to delete this part from this workorder. Delete via this part's form menu (via the navigation menu

) Deleting will return the quantity (and serial number if serialized) to inventory in AyaNova so it can be selected again. Then you would perform the steps again to select this part, this time being sure to enter and edit all details needed before checkmarking Used in Service.
7. Part Inventory button will display when a part has been saved to a service workorder. Via this you can see what the inventory amounts are for this part.
Note that the inventory amounts are those at the time of opening to the Parts screen. If changes have been made (i.e. set to Used in Service, someone else has used, etc), return to the workorder and then open the Parts again.