Part assemblies¶
Part assemblies are an arbitrary collection of parts grouped together to save time entering commonly used groups of parts on work orders, Quotes and Preventive maintenance orders.
Authorization Roles required¶
Many roles can select this object on other records where approriate. Editing or viewing this object in detail is only available to Users with the following roles:
Full access
Accounting
Business administration
Inventory
Read only access
Business administration - restricted
Inventory - restricted
Service manager
Service manager - restricted
Import / Export¶
Part assemblies can be imported into AyaNova and exported out of AyaNova.
How to access Part assemblies¶
Part assemblies are accessed in the following ways:
How part assemblies work¶
Part assemblies are used to select a group of Parts at once. The parts selected are inserted into the form as if they had been selected individually, no link is required to the original Part assembly record so Part assemblies can be edited or removed at any time without affecting existing records.
Part assemblies data table¶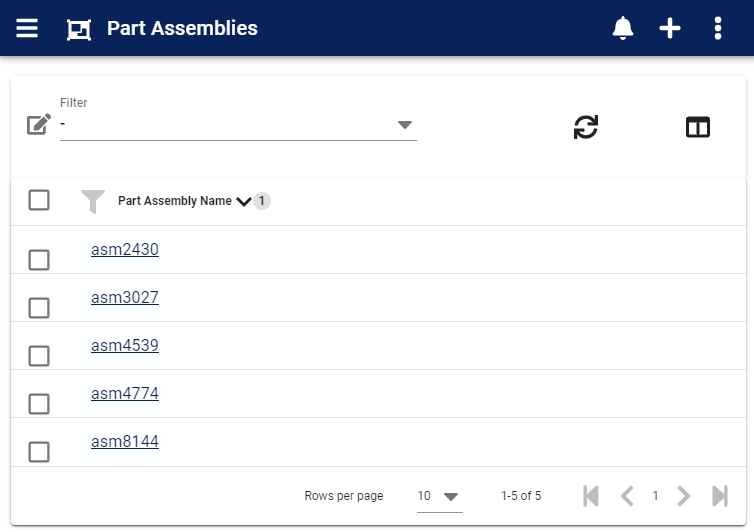 The Part assemblies data table lists all the Part assemblies available, provides the '+' link to create a new Part assembly and provides access to common data table menu options.
Part assembly edit form¶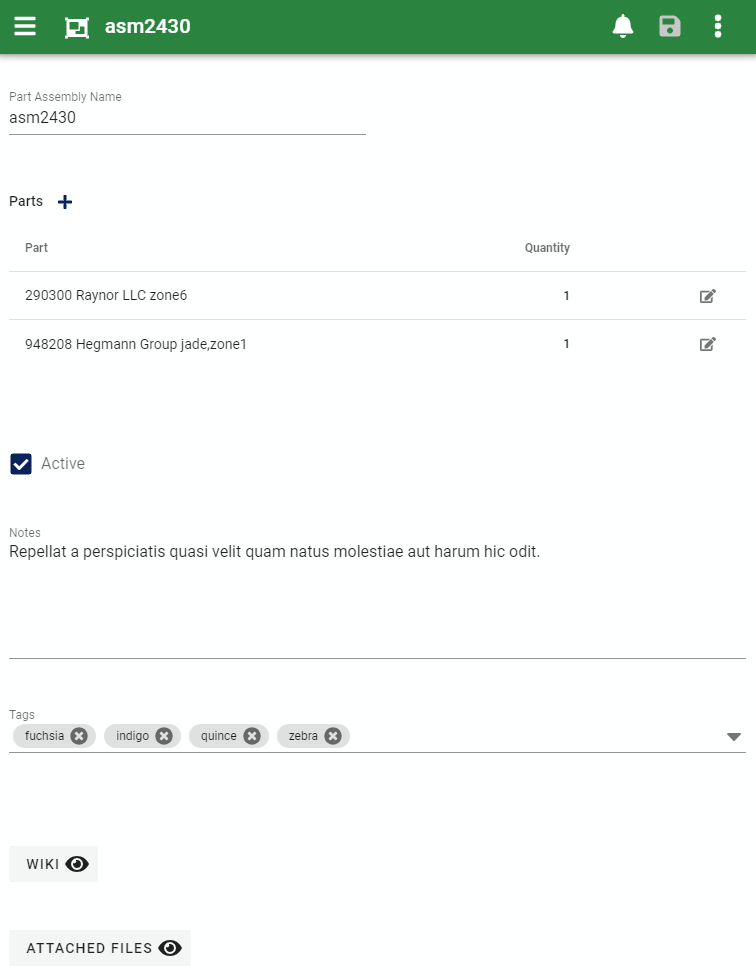 The Part assembly edit form provides all the standard edit form functionality and the following fields:
Part assembly name¶
The descriptive name used for this part assembly that Users will be looking for to make their selection.
Parts¶
This area is a collection of the selected parts for this part assembly.
Add¶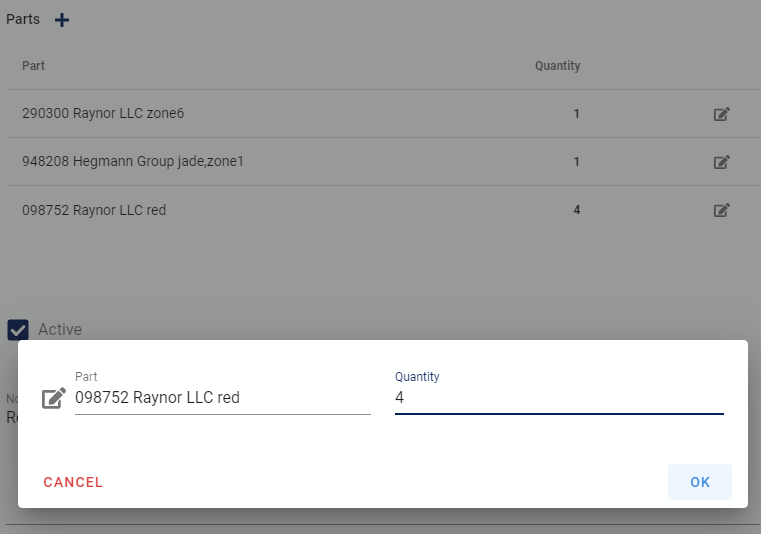 Clicking on the + icon above the list opens a dialog entry box to add a part.
Edit / remove¶

Click on the edit icon at the far right of any part line to change or remove that part.

Active¶
Part assemblies set to active can be selected by Users on work orders, quotes and pm's.
Part assemblies not active remain in the system but are not offered for selection in work orders, quotes and pm's.
Notes¶
Notes about this record for internal staff use. Notes can also be reported on if desired. These notes are only visible in this form.
Tags¶
Optional tags control for categorizing and filtering in the data table.
Wiki¶
Optional wiki control.
Attached files¶
Optional attachments control.
Menu options¶
The menu contains the common edit form menu options.