Vendors¶
The Vendors form is used to edit Vendors available in AyaNova which are companies who provide services or products to your service company.
Vendors are an important aspect of AyaNova as they save time during selection, track important and useful data related to many areas of AyaNova and provide a central location where you can enter all the contact information for a Vendor to make it quick and easy to contact them when necessary.
Selecting¶
Vendors can be selected in AyaNova in the following places:
Authorization Roles required¶
Many roles can select this object on other records where approriate. Editing or viewing this object in detail is only available to Users with the following roles:
Full access
Accounting
Business administration
Service manager
Inventory
Read only access
Business administration - restricted
Service manager - restricted
Service technician
Sales
Sales - restricted
Import / Export¶
Vendors can be imported into AyaNova and exported out of AyaNova.
How to access vendors¶
Vendors are accessed in the following ways:
Vendor data table¶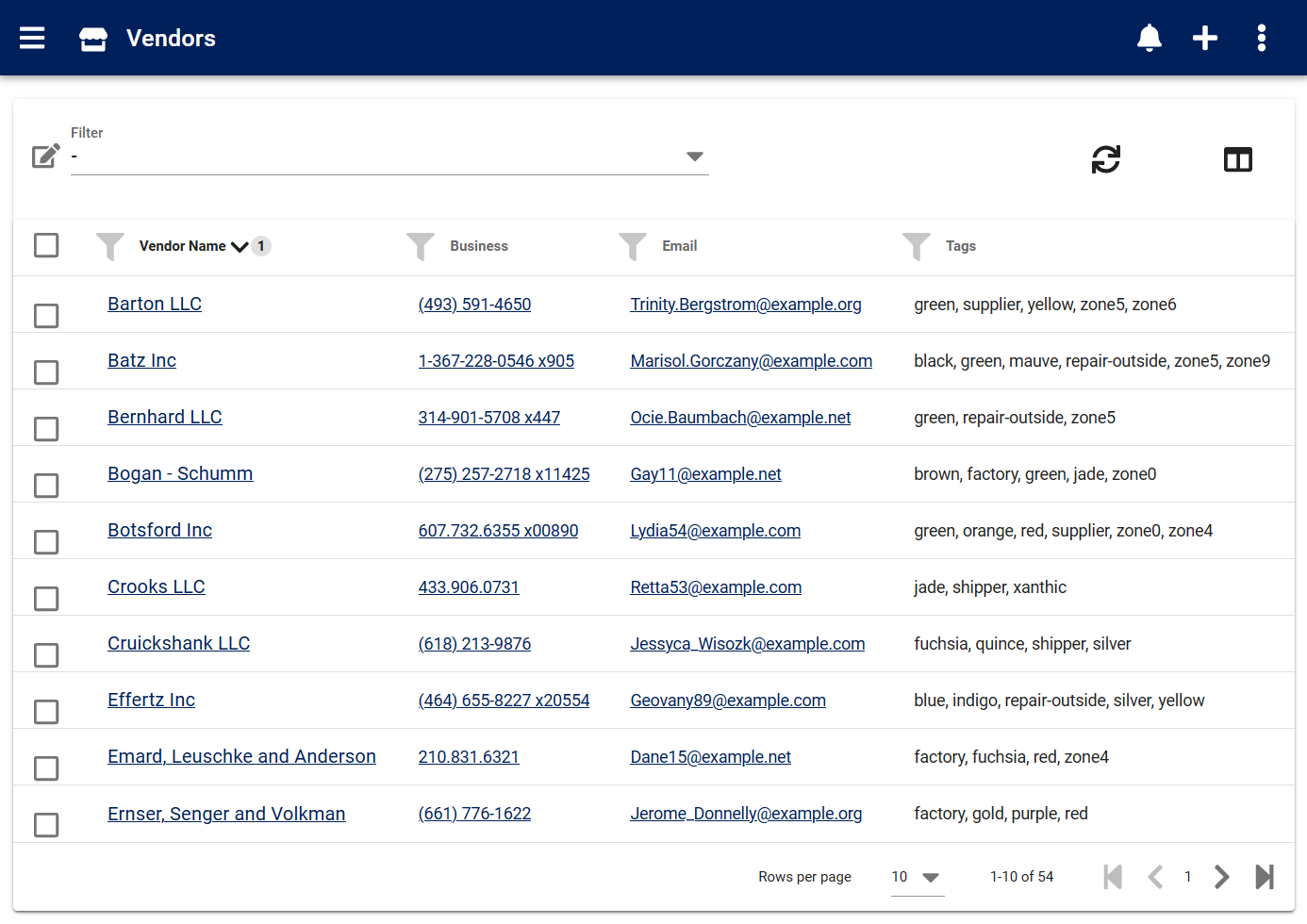 The Vendors data table lists all the Vendors available, provides the '+' link to create a new Vendor and provides access to common data table menu options.
Vendor edit form¶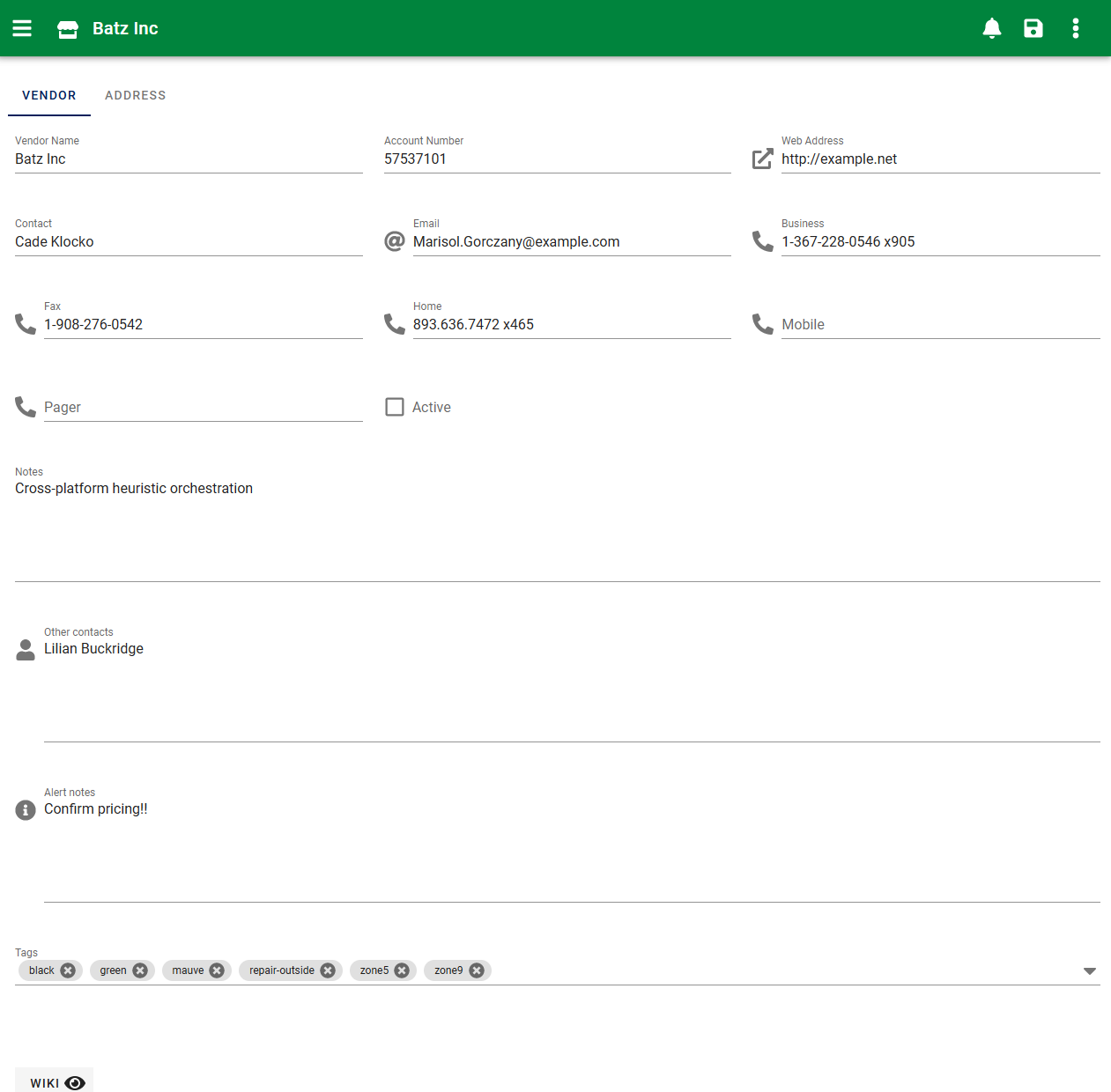 The Vendor edit form provides all the standard edit form functionality and the following fields:
Vendor tab¶
Name¶
This is the name of the vendor as it's displayed in forms and reports. This is also the primary identifier when searching for a vendor to select in autocomplete lists. A vendor name must be unique from all other vendors entered.
Keep in mind that this is the Name that may sometimes see on reports if provided to them.
This is the only required field on the Vendor form. All other fields are optional and can be hidden if not required.
Account number¶
Provided for reference or connecting to another application's matching account number for this vendor.
Web address¶
Web site address in an URL control for entry or opening.
Contact¶
The primary contact person for this Vendor, generally your account manager with this vendor. You can enter other contacts in the other contacts field as freeform text.
Email¶
Email address in an Email control for entry or opening.
Phone fields¶
Five phone contact number fields are provided as Phone controls for entry or dialing on supported devices.
These fields are pre-labeled as "Business", "Fax", "Home", "Mobile", "Pager" however as with all AyaNova form field labels they can be changed to labels appropriate for your business.
Active¶
Vendors that are set to Active can be selected on new objects that use Vendors.
Vendors not set to Active will still show in older records but can not be selected for new records; this is how you retire a Vendor from use.
Notes¶
General notes about this record for internal staff use. Notes can also be reported on if desired. These notes are only visible in this form.
Other contacts¶
Freeform text area where you can enter any non-primary contacts for this Vendor, for example special departments that are not the main primary contact people.
Alert notes¶
Vendor alert notes are currently displayed on Purchase orders only and are intended as a general purpose alert message to any staff member whenever they deal with this Vendor for purchasing about any unique and important information required to make the purchase.
Alert notes will display as an orange alert box with a triangular /!\ exclamation mark icon once a Purchase order is saved with this Vendor selected.
Custom fields¶
If the form has been customized and custom fields enabled for this object they will display here.
Tags¶
Optional tags control for categorizing, searching, selecting and notification filtering.
Wiki¶
Optional wiki control.
Attached files¶
Optional attachments control.
Address tab¶
Standard AyaNova object Address control.
Menu options¶
In addition to the common edit form menu options the Vendor edit form also contains these options.
Send email¶

Send an email directly to this vendor via the AyaNova notification system (alternatively you can send an email using your installed email software instead by clicking on the @ icon beside the email address).