Getting started - Evaluation¶
The first step is to figure out if AyaNova is a good match for your business needs.
We suggest the following order of steps to determine that in the least amount of time possible.
First up is a brief overview of what we're talking about... just what is AyaNova anyway?
How does AyaNova work / what is it?¶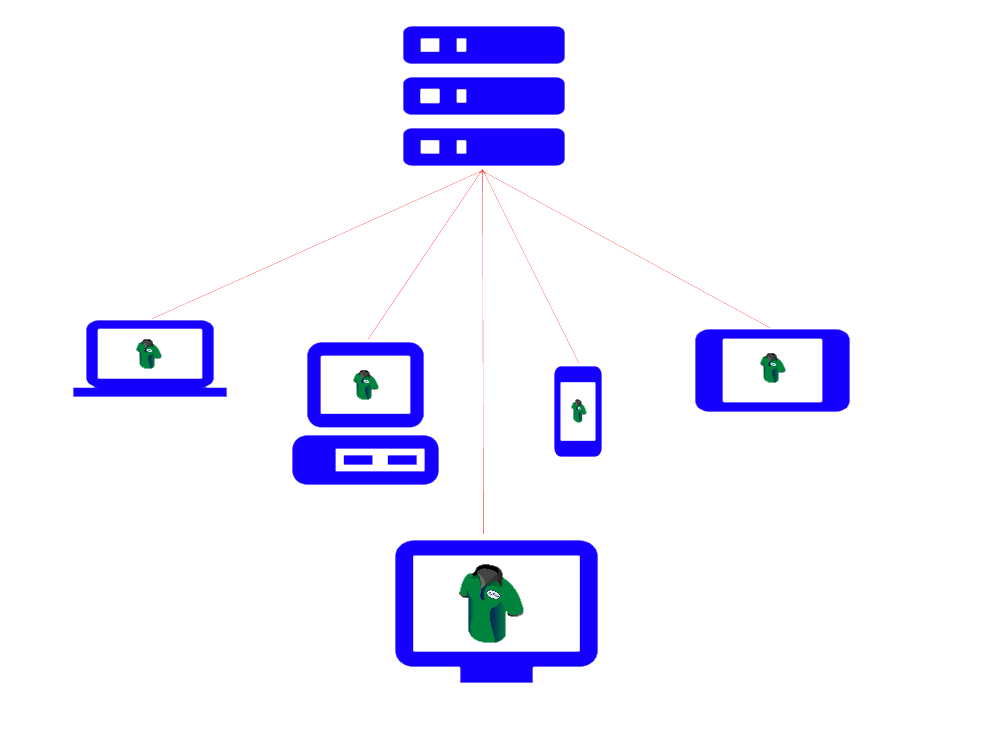 AyaNova is multi-user business software used for all aspects of profitable service management.
The AyaNova program is split into two parts: a "back end" server program (represented by the three rectangle shaped things at the top of the diagram above meant to represent a "server" running AyaNova) and a front end web browser application that the User interacts with when using AyaNova on their devices (the various devices at the lower part of the diagram above).
The back end AyaNova server runs in a central location and performs several tasks: it hosts the database that stores your data and handles all the business rules and logic used by the front end for securely creating, retrieving, updating and deleting business records like Work orders, Customers etc.
All the hard work is done at the AyaNova server and it acts as the "referee" to manage everything going on between multiple Users and ensure all the data entered by Users is stored safely and is consistent and correct.
The "front end" is a web application that is used with the web browser on a smart phone, tablet, PC, smart TV.
Any device with a modern web browser can be used with AyaNova.
The front end is designed to be be fast and efficient and adapt itself automatically to the device in use.
Subscription service or install and self-host AyaNova?¶
AyaNova is available in two different ways:
Subscription service¶
AyaNova can be used as a "Subscription" service hosted by us globally in the data center of your choice.
AyaNova will always be up to date with the latest release and you don't need to install anything or maintain any back end server hardware / software or configure networking.
You can choose to pay month to month or year to year as a subscriber.
Your Subscription AyaNova data backup is compatible with the other Perpetual (self hosted) option enabling you to move to that way of using AyaNova if it makes more sense down the road.
See our AyaNova subscription option pricing page for Subscription pricing and potential benefits of using AyaNova as a Subscription service.
Perpetual license¶
AyaNova can be licensed "Perpetually" meaning you download and Install the AyaNova server software package on premise to your own in-house Windows or Linux computer for a single User, internal network of Users or shared across the internet to multiple users.
You will need to install, update and maintain AyaNova in-house.
Your initial one year support and updates maintenance agreement purchase includes AyaNova perpetual licenses and also entitles you to one year of support and updates.
You can choose to cancel your maintenance agreement at any time and continue using AyaNova perpetually at the last version released before your maintenance agreement expired or renew your maintenance agreement at any later time to continue receiving support and updates.
The AyaNova perpetual option pricing page has more details and outlines the benefits between the two to help make a decision which way to go.
Your data backup is compatible with the other Subscription (we host for you) option enabling you to move to that way of using AyaNova if it makes more sense down the road.
Pricing - is AyaNova priced within my budget?¶
AyaNova's pricing and support model is designed to be as affordable as possible.
Our prices and links to purchase are always available on our AyaNova pricing page.
Features - Will AyaNova do what I need it to do?¶
Our company started as a computer service company and we've built up AyaNova from our own service roots and experience and mixed in years of feedback from real world users "in the trenches" of providing service all over the world.
There's not much that AyaNova doesn't do at this point but sometimes it's not obvious that a feature exists.
Here we list in order what we think is the quickest way to get to know what AyaNova offers with the least amount of time spent:
Changes from older versions of AyaNova¶
If AyaNova is completely new to you, you can skip this step.
If you are familiar with older versions of AyaNova and are considering upgrading to AyaNova 8 we have a Changes from AyaNova 7 section in the manual just for you. Please review that information before proceeding with this guide.
Get the big picture¶
We recommend first taking a look at the "Big picture" features are listed on our home page.
Our home page has a high level view that can give you a quick idea of most of the major areas of AyaNova.
Not listed or shown there are all the supporting features that work with and go into those big picture features but it's a good place to start to get a sense of what AyaNova is about.
Many things have been left off that page so if AyaNova still seems like it might meet your needs then the next step would be to take a quick skim through our manual:
Drill into more details¶
To get a fuller sense of what features are available before trying AyaNova out yourself a good place to look through is the "User interface" section of our manual: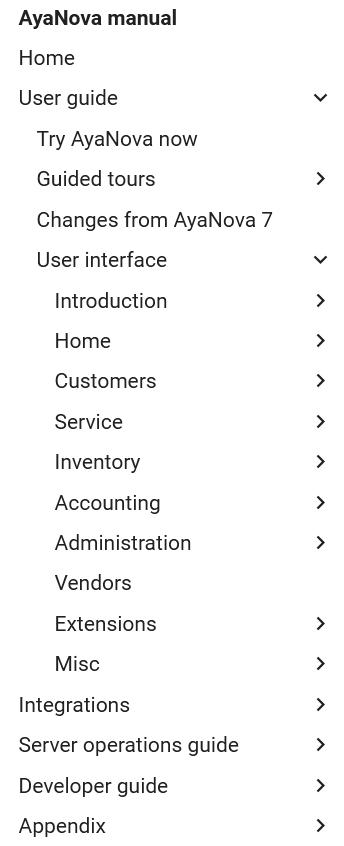 It's organized in the same way as the AyaNova app's navigation pane which is organized by the roles or departments in a typical service company: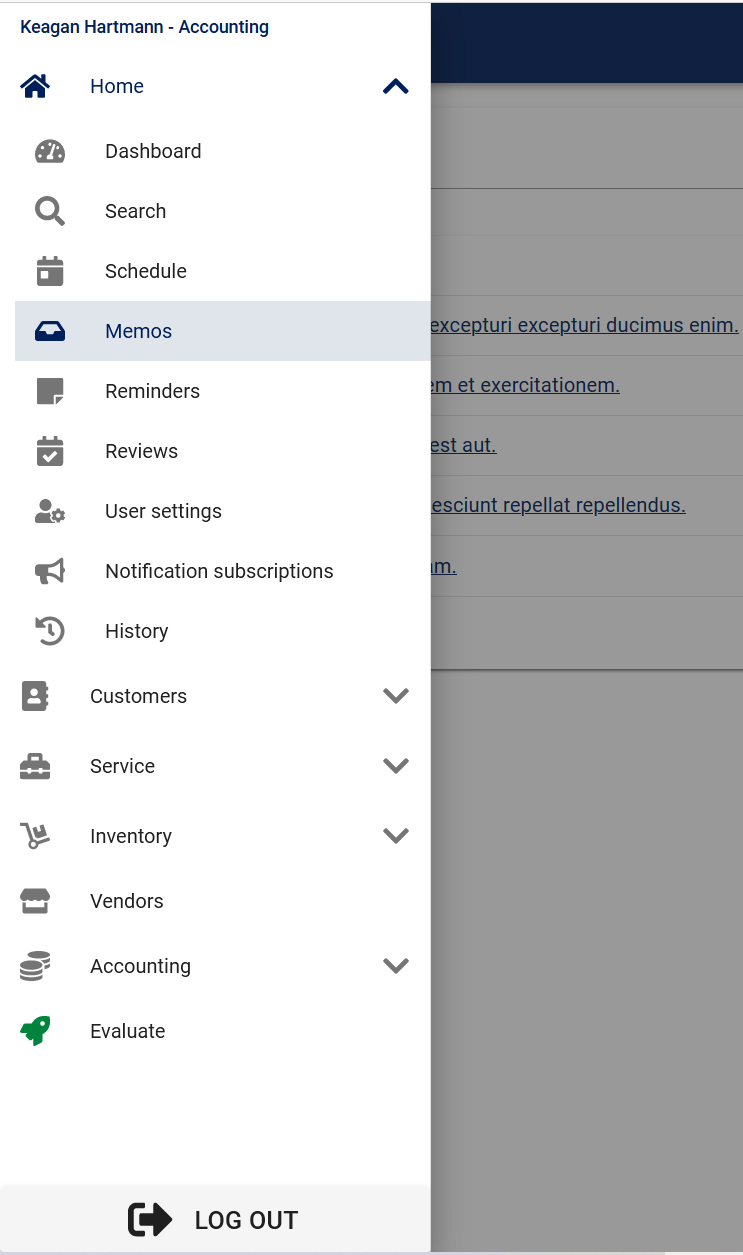 Every area of the AyaNova user interface has a corresponding documentation page in the "User interface" section of this manual.
We recommend a quick skim through this section just to get an overview of what features you can expect to find within AyaNova.
Also be sure to look at our Integrations page for any AyaNova integrations with 3rd party software such as QuickBooks Desktop Accounting that might be of interest.
If any area is of particular interest to your business take a closer look here and if questions arise ask us:
Ask us¶
Please feel free to reach out to our support department who are available to answer any questions you might have about AyaNova during your evaluation process.
These are the same people who will provide you with technical support should you need it while using AyaNova.
Try it out¶
If you've reached this point and AyaNova still looks promising it's time to try AyaNova out on your own devices.
No one should purchase AyaNova without a thorough try first and we will provide anything you need to be certain AyaNova will meet your needs before purchase.
Everything you need to try all features of AyaNova at no cost as a Subscription or self installed Perpetual version can be found via our "Try AyaNova now" page which will walk you through the initial evaluation process which consists of installing AyaNova or getting a trial susbscription account and generating sample data so you can experiment with AyaNova to see how it works in practice and how it might fit into your service process.
Once you have access to AyaNova and some sample data generated to play with we recommend following a structured evaluation process to save time:
Get an idea about how the forms work and how to move around in AyaNova with our forms overview.
Take some guided tours to get your feet wet. A good place to start out is the Create a Customer guided tour.
Work orders are at the heart of AyaNova so the Create a work order guided tour is a good next step.
Try out any particular feature that is important for your business. Each AyaNova form has a Help link in the menu that will take you to a help page for that form. Don't be afraid to break anything, you can always generate fresh sample data and start over.

What does everyone else think? It's time to get other staff members feedback.

Once you have a fairly good idea where things are and how they work it's time to get other staff trying out AyaNova, make User accounts for all staff in each department who will be using AyaNova and have them try out the features that they would be working with day to day. Use the sample Users provided for each Role as an example to refer to when setting up your own staff User accounts.

For example have the service techs try making work orders, entering labour and scheduling themselves.

Have the Inventory staff try out the purchase orders and entering Parts etc.

Sales staff should try out the Quoting system.

Administrators and department heads should try out the Dashboard and set up some business metrics and graph widgets that relate to their departments.

Get feedback from all users and if any questions arise that aren't covered in the manual please do not hesitate to contact our support department as always.

It's important that all Users have a chance to try AyaNova and give their feedback and ensure their questions and concerns are answered before moving on, allow plenty of time for this process.

Time travel - once everyone who will be using AyaNova is familiar with their area of the program have them go back and look at it again but this time considering different time frames for any required tasks and trying them out in AyaNova.

For example, what will be their day to day interaction with AyaNova, weekly, monthly, yearly? Looking forward in time like this is often helpful when evaluating business software to catch anything that might be missed during the first few looks and it gets people thinking in terms of actually using the software in production and identifying any concerns that come up early on so there are no surprises later.

Customization - AyaNova is highly customizable in many areas and it isn't unsual at all to want to make some tweaks to more closely align AyaNova with a particular business or industry.

We have several guided tours in the Business admin section about customization including adding custom fields to forms, hiding un-needed form fields, changing the displayed text and more.

Report templates in AyaNova can also be customized and new ones created using the built in report template editor.

We recommend looking through the reports you might use in your business and make or plan for any changes required if the stock report templates don't meet your needs as they are. We suggest making a duplicate copy of any stock report templates you want to modify first and then working with the duplicate so that you always have the original for reference. If you prefer to have report templates modified or created for you, we may be able to provide that service for a fee, contact AyaNova support for details and a quotation.

Be careful not to customize too much too early in the evaluation process; be sure you and your potential staff who would be using AyaNova have a basic familiarity with AyaNova's stock forms and features first before customizing. If you start renaming fields or dropping them (for example) it can be hard to match up what is written in the documentation with what they are seeing in the program. It's possible to customize and remove entire sections of the Work order form (for example) but it may turn out that some of those would be useful so it's best to get a good idea what's in there before making too many changes early on.

Importing exsting data - often a company starting out with AyaNova will want to import existing data to save time.

Before you import We recommend importing data as part of the evaluation process but not too soon: we recommend using the generated sample data for early evaluation instead because the generated data simulates real world data created by a service company over time so it's often more helpful for evaluation purposes as the data is more realistic and is used in multiple areas giving Users a chance to see how it all links together.

Importing from other programs AyaNova has a built in import feature which enables you to import data from text files which you should try out with real data as part of your evaluation process.

Importing from QuickBooks If you use QuickBooks desktop edition you can import data directly from QuickBooks using our QBI QuickBooks integration utility (more accounting integrations are in the works, contact us if there is a specific one of interest, we may already be working on it).

Importing from older versions of AyaNova If you are using an older version of AyaNova we have a migration utility that will import legacy AyaNova data to version 8.

Note that Report Templates are not automatically migrated from older versions of AyaNova so they will need to be recreated if you have any customization more complex than putting your logo on reports (which is built in to stock report templates in AyaNova 8).

Decision - is everyone comfortable with AyaNova? Has everyone tried out the features they will be using in production? Are there any lingering questions that need to be answered? Now is the time to be certain and if necessary go back and confirm anything before moving to the next step.
Next up - Acquisition¶
You have determined AyaNova is going to be a good match for your business it's time to acquire AyaNova licenses and get to work:
Step 2. Acquisition - purchasing AyaNova